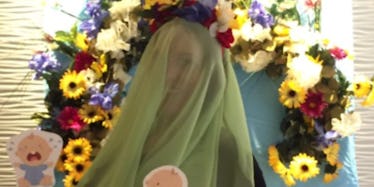 Best Co-Workers Ever Throw Woman A Beyoncé-Themed "Bey Bey" Shower And It Slays
Twitter
In a world where everybody wants to be Beyoncé, it was only a matter of time before someone took their admiration for Queen Bey to the next level. A group of awesome co-workers decided to surprise their expecting associate with the Beyoncé-themed "Bey Bey" shower of her dreams, and it slays.
Twitter user, @Yelirand posted the amazing photos of the "Bey Bey" shower to Twitter July 26. The post has since then gone viral, obviously.
"Got to help throw a Beyoncé-themed baby shower today at work," she tweeted. The hilarious photos have been retweeted over 4,000 times and have gotten over 14,000 likes.
The Beyhive members of the Twitterverse are all about the theme of this baby shower.
"Beyoncé will be proud."
I think the entire Beyhive would be proud of this celebration.
"Amazing. Best coworkers ever."
They legit pulled out all the stops for this one.
"Best friends ever!"
"Kinda makes me want to have a baby."
Whoa, this shower has some serious influence!
The intricate Bey Bey shower included everything from an elaborate backdrop and veil -- similar to Beyoncé's -- to a tower of doughnuts with a note that read "OK babies, now let's get in formation."
So clever!
Twitter user @Yelirand assures her new fans that most of the items featured in the shower were easy to come by, because she found most them on Etsy.
She also informed those who want to throw their own Bey Bey shower that it wasn't as expensive as it seems. She tweeted,
We didn't spend that much! backdrop is a table cloth over a wooden palette we had, and we printed all the signs ourselves!
This amazing Bey Bey shower has attracted the attention of thousands on Twitter... but I think the question of the hour is, "Has Beyoncé seen this?" Because if she has, it's only a matter of time before she gives her stamp of approval.