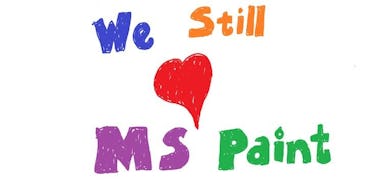 Our Beloved Microsoft Paint Is "Here To Stay," So Everyone Can Calm Down Now
The internet was in mourning on July 24 when news broke that Microsoft Paint might be discontinued. Many shared tweets about how their lives would never be the same and offered their condolences. Due to the outpouring of tweets expressing anger over Microsoft Paint's predicted "death," Microsoft has decided to keep Paint, and Twitter's reactions were so dramatic.
However, finding MS Paint will be a little different now. Microsoft released a statement late Monday night about our favorite childhood artist program, and it wrote,
Amidst today's commentary around MS Paint, we wanted to take this opportunity to set the record straight, clear up some confusion and share some good news: MS Paint is here to stay, it will just have a new home soon, in the Windows Store where it will be available for free.
That's right, folks: MS Paint will now be available via the Window Store... for free.
But before all of the good news became public, people posted some pretty dramatic tweets about Microsoft Paint being discontinued.
"RIP MS Paint 1985 - 2017"
That's right, @JennyKayNZ, we don't want fancy new software -- we just want to paint! Luckily, we still have MS Paint, so now everyone can calm down a bit.
MS Paint isn't going anywhere... except the Microsoft App Store.
Those are some great friends.
Ah, the classic zombie joke.
You see, folks, when the internet comes together to complain about one common thing, anything is possible. Think about all the things we could get rid of if we collectively complain on Twitter! The possibilities are endless.
OK, now back to Microsoft Paint.
Those who freaked out over the potential Microsoft Paint departure can also find many of the same features like photo editing, line and curve tools, and 2-D creations on Paint 3-D, which is Microsoft's new app for creativity, available in Windows 10 Creators update.
See what happens when we work together?