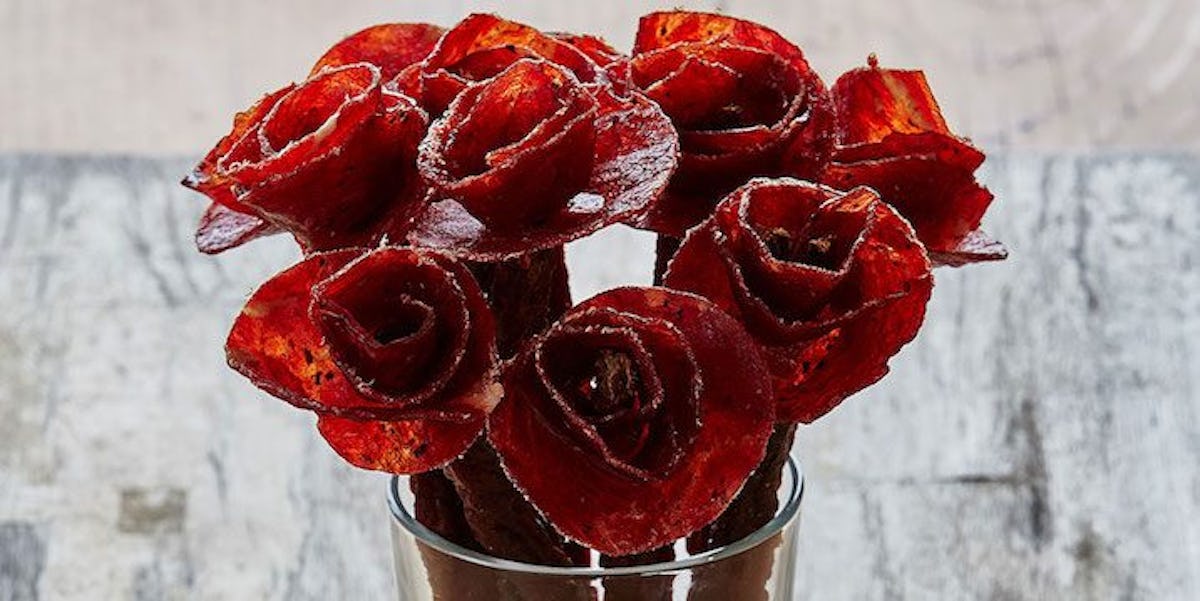 Beef Jerky Flowers Are The Best Valentine's Gift For Your Protein-Obsessed BF
Say it With Beef
Valentine's Day is right around the corner.
If you're a single gal (like myself), you probably just cringed a little. But if you're in a relationship, you're probably searching for a gift your boyfriend will adore.
If you're currently on the prowl for the best manly present, have no fear — I have the perfect gift for you.
It's meaty and beautiful, just like your boyfriend (hopefully).
This bouquet is made entirely out of beef, and your protein-loving bae is going to fall head over heals for the romantic meaty treat.
The genius beefy bouquet was created by a company called Say it With Beef, and its website claims the roses are made with 100 percent beef jerky.
The company came up with a clever nickname for the roses, calling the dude gift a "broquet" as apposed to a flowery bouquet.
When your boyfriend retrieves his "broquet" made entirely out of meat, I guarantee he'll fall more and more in love with every bite he takes.
If he doesn't completely adore the meaty gift, then dump him immediately and eat the roses yourself. Who doesn't like meat on Valentine's Day, anyway? I mean, c'mon!
To make the gift even better, the "broquet" comes in two different forms: roses and daisies.
So, if your man isn't into the whole "romance" thing, maybe a broquet of meaty daisies would do the trick.
If you want to buy a bundle for your boyfriend this Valentine's Day, check out Say it With Beef's website. There's a waiting list, but your boyfriend is probably worth it.
The only boyfriends who probably aren't worth the wait are all of the vegetarian dudes out there. If you're dating one of those guys, I'd stick to chocolate and buy the Beef Jerky Flowers for yourself.
But in my opinion, nothing says "I love you" like meat does.
Citations: Beef jerky flowers are the only truly modern way to say 'I love you' (Metro)