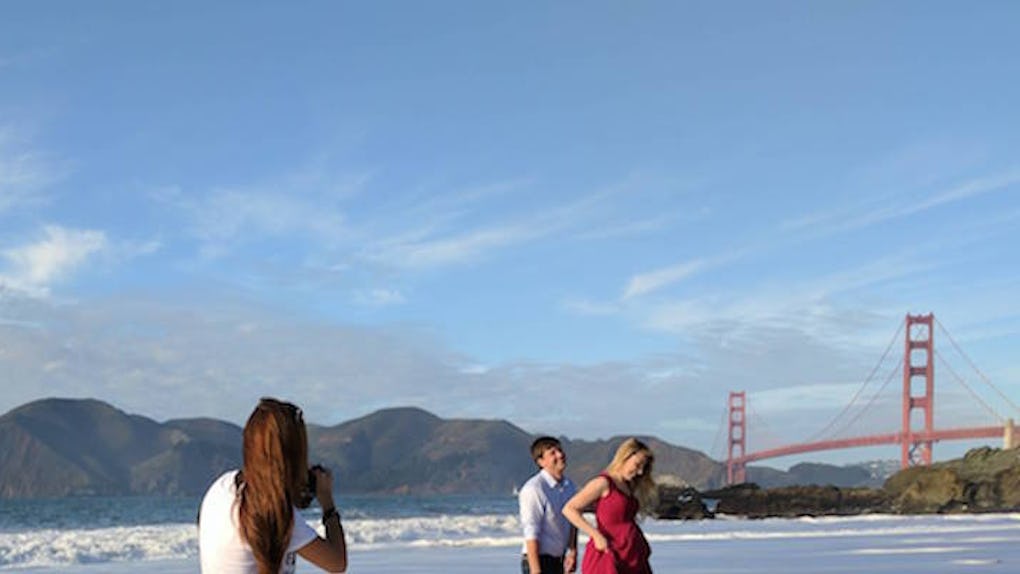 Imgur
Couple's Pregnancy Shoot Photobombed By Bare Butt
There's no better way to remember your pregnancy than by hiring a photographer to snap a series of pictures of your bulging belly.
But one Californian couple recently got a little more than they bargained for while taking part in a pregnancy photo shoot along the ocean at Baker Beach, San Francisco.
As the proud parents-to-be posed in front of the picturesque Golden Gate Bridge, an unexpected wave washed ashore. This momentarily interrupted the couple's intimate pregnancy photo shoot.
However, it appears the pesky wave isn't the only thing that crashed the party.
If you take a look at the full frame snapped at that very moment, you may notice something strange in the background.
Upon closer inspection, you'll suddenly realize this beautiful, child-bearing woman isn't the only one in the frame who's baring something: Some dude is displaying a full moon behind the unsuspecting couple.
That's right: The couple's beach pregnancy shoot was photobombed by a nude stranger's bare butt looming in the background.
I have to say, this might be one of the funniest photobombs of all time.
On Monday, the hilarious photograph surfaced on Imgur:
It's not hard to see why a lot of people find this photo entertaining. So far, this epic photobomb has been viewed over 250,000 times.
Apparently, the northern portion of Baker Beach is a designated "clothing optional" area.
Therefore, given the au natural nature of this beach, seeing a bunch of naked people mosey down to the shoreline for a refreshing skinny dip shouldn't seem too bizarre.
In order to protect the privacy of those who decide to strip down, Baker Beach DOES have some etiquette rules in place. These rules ask visitors to abstain from staring and photographing all the naked people running around.
But in this particular case, I think it's safe to say this bold beachgoer was simply in the wrong place at the wrong time.
Citations: Wrong location! Nude sunbather crashes pregnancy photo shoot on renowned San Francisco nude beach (Daily Mail)