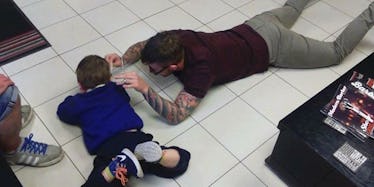 Barber Helped An Autistic Boy Fight His Fear Of Haircuts In Amazing Way (Photos)
Haircuts are stressful for everyone.
The commitment! The tears! The prickly hairs that fall down your shirt!
For Mason, a young boy in the UK who'd just been diagnosed with autism spectrum disorder, getting his first haircut was even scarier.
Mason would run when barber James Williams tried to sit him down for a quick cut, so Williams met Mason where he was most comfortable… on the floor.
Williams shared his experience with Mason in a post on Facebook.
Really want to thank Jamie Lewis Denine Davies to allow me to post this on my wall, the extremes you need to achieve... Posted by James Williams on Tuesday, November 3, 2015
He wrote,
The extremes you need to achieve when [you're] cutting hair is amazing even having to go down to a child's level literally… We both layed on the floor in silence & he allowed me to cut away & give him his first proper haircut, again achieving something in a job I love.
Mason's new haircut looks adorable, and Williams got to take a break from the grind that keeps him on his feet all day.
This pair is a perfect match.
Citations: Barber Goes Extra Mile To Conquer Autistic Boy's Fear Of Haircuts (Bored Panda)