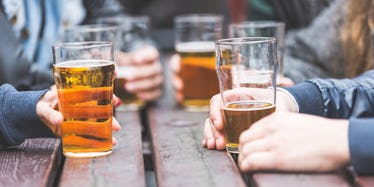 This Bar Is Giving Away Insanely Cheap Beers For The Best Possible Reason
REX/Shutterstock
Parking tickets are the bane of any Angeleno's existence. With dozens of contradicting signs on every LA street, it's almost impossible to have a car in this city without getting a hefty ticket at some point.
Luckily, one bar in downtown LA understands our plight. According to LAist, Crane's Downtown has promised to give customers with parking tickets $10 buckets of beer -- that's half off the normal, insanely cheap price -- as long as you bring your ticket within seven days of getting it.
To be clear, not any old ticket will do. In an interview with LAist, the bar's owner Darren Crane, said,
We're not promoting other tickets because we're not promoting bad driving. We're promoting something that every innocent person gets caught up in. Somebody asked, 'I got a texting ticket the other day, do I qualify?' And we said no. You shouldn't be texting and driving.
What's great about this promotion is that it rewards the good drivers of LA -- not the aggressive tailgaters, oblivious texters or honking maniacs, but hardworking citizens who just want to park for five minutes while they run in and grab their burrito combo plate order. Crane echoes this point, telling LAist,
Our idea is that the passenger who knows about this promotion will say, 'Dude, it's not as bad as you think. Crane's has a half-off bucket of beers, let's go. I would like it to be the trend that the passenger who is not getting the ticket will pay for the beers.
Cheers!
Citations: This Bar Will Give You A $10 Bucket Of Beer If You Get A Parking Ticket (LAist)