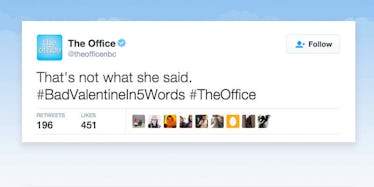 People Share Their Idea Of A Bad Valentine And It's Relatable As F*ck
Twitter
If you're bummed about being single this Valentine's Day, feel good knowing it could always be worse -- way worse.
Between bad poetry, crappy chocolate, drugstore stuffed animals and blind dates with creepy-stalker pedophiles, there are so many opportunities for the most romantic day of the year to go terribly wrong.
Thanks to the creative minds of Twitter, we can all feel good about our weak Valentine's Day plans -- or complete lack thereof.
Here are the most terrifying tweets from the trending hashtag, #BadValentineIn5Words.
"Days of Our Lives" knows where it's at.
The friend zone is the worst zone.
Thanks, but no thanks.
When you tell a genie you want to date twins and you get this...
Just go along with it.
Get outta here with that sh*t.
Literally? Or, like, figuratively?
Endearing... if you're a serial killer.
Cool, bai!
Um, can you bring back "The Shining" twins? They weren't so bad.