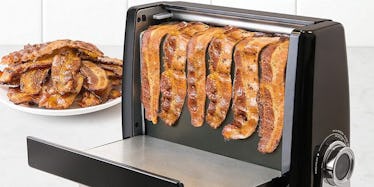 Bacon Toasters Are Here, So Making Breakfast Hungover Just Got So Much Easier
Nostalgia Electrics
GUYS. IT'S HERE. IT'S FINALLY HERE.
All of our wildest hangover dreams just came true -- because bacon toasters exist.
Yes, you read that correctly: Toasters dedicated to your crispy, sizzlin' bacon are on the market.
With one of these babies, I don't think I'll go to brunch ever again. Why pay for a platter of bacon when you can toast your own with the turn of a knob?
This is life-changing, my friends. Truly life-changing.
The newfound toaster -- sold by Nostalgia Electrics -- is called the "Bacon Express."
The machine looks simple enough to use, and that's coming from someone who often sets the fire alarm off while cooking, FYI.
In order to cook up to six full pieces of bacon, you need to follow a few easy steps that are perfect for hungover mornings when moving your body hurts.
1. Open the toaster and drape the bacon strips over the middle portion.
2. Then, adjust the machine's settings for your desired bacon thickness. I don't know about you, but I prefer my bacon thick and crispy.
3. Congratulations -- you've won at life. Plate up those bad boys and bask in grease heaven.
If you want to watch the Bacon Express toast a plate of beautiful bacon first hand, check out the YouTube instructional video Nostalgia Electrics posted.
My mouth is watering just watching those bacon strips getting cooked.
Aside from cooking the good stuff with the flip of a switch, the Bacon Express is also praised for cooking bacon that's healthier for you.
On the company's website, the toaster's description says that since the bacon is cooked vertically, the fat and grease is drained away.
The bacon grease is caught by the drip tray, which is also a component to the toaster.
It's a dream machine, I know. Buy me one and I promise to cook bacon for you every morning.