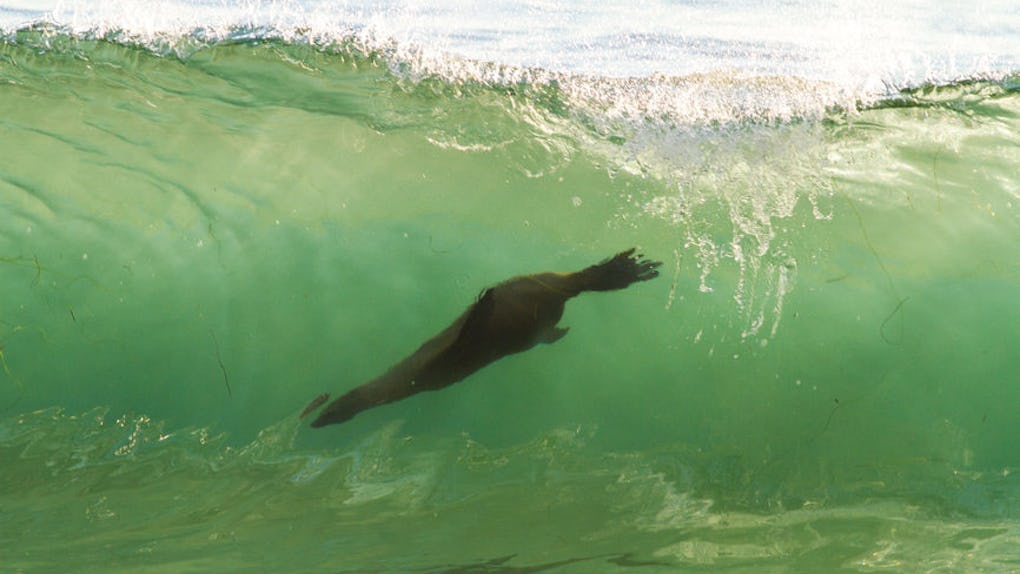 Nathan French
The Internet Is Obsessing Over This Baby Seal That Was Rescued From A Storm
It's hump day, which means it's prime time to talk about the only thing that's keeping you from crying yourself to sleep for the next two days: baby animals. Specifically, baby seals.
Personally, I find that baby seals vaguely resemble old gym socks, but I also have no heart and think that the only cute animal in existence is my dog. However, some people seem to like them, so let's talk about 'em.
In glorious baby seal news, an 18-month-old baby seal was just released back into the wild after being rescued along Australia's East Coast following a storm.
He was named Elvis because he's a low-key dancer.
.#Elvis the fur seal was released today after being found malnourished during the #Sydneystorms @tarongazoo @RSPCA pic.twitter.com/YoNC5UKRLE — SMH Photography (@photosSMH) June 29, 2016
He stayed at Taronga Zoo for two weeks before being released.
LOOK AT ELVIS' FACE. LOOK AT IT. Elvis the fur seal returned to wild after being rescued in NSW storms / @tarongazoo pic.twitter.com/pKGuMHPSFR — Amanda Hoh (@amandahoh) June 29, 2016
LOOK AT THAT MUSHY FACE.
Elvis the Seal- Is the election campaign over yet?#ausvotes @tarongazoo pic.twitter.com/w1eUB2TiLF — 702 ABC Sydney (@702sydney) June 29, 2016
UGH. IT'S SO MUSHY.
'Elvis' has left the building: baby seal hurt in Sydney storm returns to the wild https://t.co/1eUNKlJpNLhttps://t.co/33Kic2mwuN — SBS News (@SBSNews) June 29, 2016
I NEED HIM IN MY LIFE.
Taronga Zoo and ORRCA, the organization that helped rescue Elvis, urge anyone who sees seals washed ashore to leave them alone. Most of the time they'll just go back into the water on their own. Keep your grubby fingers away from their cute, fuzzy, sock-like faces.