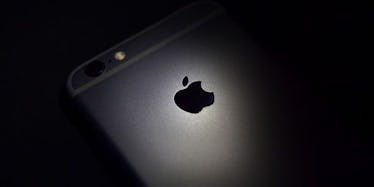 Apple Is Hiring Someone To Make Siri A Better Therapist, Because This Is 2017
Carl Court/ Getty Images
If all the iPhone rumors swirling before the highly-anticipated Apple keynote that finally took place on Sept. 12 have made you feel like you're on an emotional roller coaster, then I'm with you. It's exhausting trying to decipher what's fact and what's fiction, but there is something new on Apple's website (besides the iPhone X) that might soon help you deal with feeling drained, and you can use it right from your phone. The tech giant has a new job posting up because Apple is hiring someone to make Siri a better therapist. That's right: You can officially apply for the "Siri Software Engineer, Health and Wellness" position at apple.
According to Mashable, Apple posted a job listing to hire someone for the position of  "Siri Software Engineer, Health and Wellness." According to their job description, not only does the applicant need to have a computer science background, but he or she must also have a counseling and/or psychology background. Yup, Apple is trying to make Siri more emotionally supportive so that you basically have a handheld therapist.
Apple further explains the reasons as to why they want to advance Siri's emotional capacity in the job posting:
People have serious conversations with Siri. People talk to Siri about all kinds of things, including when they're having a stressful day or have something serious on their mind. They turn to Siri in emergencies or when they want guidance on living a healthier life.
Apple goes on to say,
We are looking for people passionate about the power of data and have the skills to transform data to intelligent sources that will take Siri to next level.
I can almost hear the collective eye-rolls from people like your Aunt Betty who spend all Thanksgiving yelling at you to "Get off that damn thing!" There's also a good chance that the critics of this upgrade will throw around the terms "soft" and "snowflake," but it might not be as ridiculous as it first sounds.
I get it, it definitely sounds like the most 2017 thing ever, but it kinda makes sense. Seriously, think about how much time you spend on your phone and computer throughout the day. More than that, think about that terrible sinking feeling you get when your reach for your phone and it's not there. Now, there's a case to be made that society is too dependent on our phones -- but if that's not likely to change any time soon, then it's good to see that Apple is taking steps to work within the current state of technology to advance the capabilities of Siri. The built-in personal assistant that many people rely on can definitely use an emotional upgrade.
Apple has learned from its users that they do turn to Siri for more than just directions and restaurant recommendations. As technology continues to advance, what's "normal" continues to transform as well. Take the workforce, for example.
Based off the people I know, so many employees are working remotely from home instead of in the office, which has become increasingly commonplace. This means that a lot of people spend their entire work day alone. Working from home clearly has some perks (like no commute and exclusively using dry shampoo), but when you finally clock out and realize that you haven't talked to anyone in over eight hours, you probably want to beeline to the first person you see and chat, pronto.
Once Apple releases this new emotionally advanced Siri, you'll have more options for communication. I don't think Apple wants you to forgo human interaction altogether, but it is good to know that you can talk it out with Siri in a pinch, and that you might leave the conversation feeling a little better about whatever was worrying you.