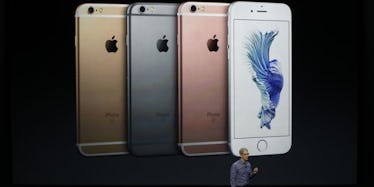 Apple Finally Announced An Event In September And The iPhone 8 Is Probably Coming
Stephen Lam/ Getty Images
After what has felt like an eternity, we finally have some concrete news about the iPhone 8. No, we aren't 100 percent certain if all of the rumors about the phone are true, but we do know that Apple's iPhone 8 might be announced on September 12. Members of the press are already receiving invites to an Apple event taking place on Sept. 12 at the Steve Jobs Theater in Cupertino.
Not only will this event probably unveil unknown details about the iPhone 7s and 7s Plus, it will also confirm (or deny) rumors about the iPhone 8. Will the iPhone 8 actually have infrared facial recognition? Will the home button actually be a thing of the past? Will the screen actually take up most of the phone? And most importantly, will I have to dip into my savings account to purchase it? All of these questions will finally be answered on Sept. 12, and honestly, I can't wait.
Granted, I won't be attending the event, but the internet will be drowning with information and photos about the big day. Keep your eye on Twitter user @MKBHD's profile; he tweeted his invite and folks are excited.
"Just got the invite. It's official."
"Steve Jobs Theater. Finally"
OK, this is really exciting! The invite reads "Let's meet at our place. Please join us for the first-ever event at the Steve Jobs Theater in Cupertino," and the event is going to take place at 10 a.m. PT. In other words, all of us on East Coast have to wait a few hours before hearing the news -- but it will most definitely be worth it.
I just hope this Apple event actually gives us the information we want to know about the iPhone 8 and that it's not just a misleading occasion. But then again, with this being such a small and exclusive gathering, I'm sure Sept. 12 will be a day to remember.