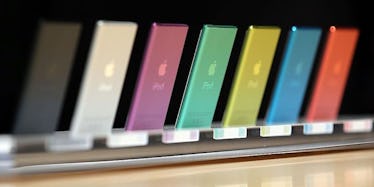 Apple Discontinued Our Favorite Childhood iPods And It's Sadly The End Of An Era
I have some bad news for music lovers who grew up using Apple products: The iPod Nano and iPod Shuffle are discontinued, and it's officially the end of an era. Apparently, people started freaking out when they couldn't find the tiniest members of the iPod family on Apple's website, and that's when the rumor mill went to work.
Apple broke the news on Thursday, July 27, and said,
Today, we are simplifying our iPod lineup with two models of iPod touch now with double the capacity starting at just $199 and we are discontinuing the iPod Shuffle and iPod Nano.
What in the world is the meaning of this?
The iPod Nano, which first entered the iPod scene in 2005, was the first Apple device I ever owned. To be honest, it made dealing with other teenagers tolerable. I would blast my favorite Panic at the Disco jams and let all of my acne-ridden worries melt away.
Since 2005, there have been seven Generations of the iPod Nano, each getting more features than the next. But the innovation behind the Nano halted in 2012. From that point forward, the seventh generation Nano was the only one being sold to customers.
The iPod Shuffle was an interesting device because it made buying an MP3 player for a child a little less taboo. The Shuffle was always the most reasonably priced device in the iPod family ranging anywhere from $50 to $100.
Similar to the Nano, the Shuffle debuted in 2005 -- but unlike the Nano, it only counted on four generations. The last modification made to the Shuffle was in 2015, and since then, Apple has only sold fourth generation Shuffles.
It's officially the end of an era, folks, but don't grab a Kleenex just yet. You can probably still find iPod Nanos and Shuffles for sale at places like Best Buy and Walmart until they run out.