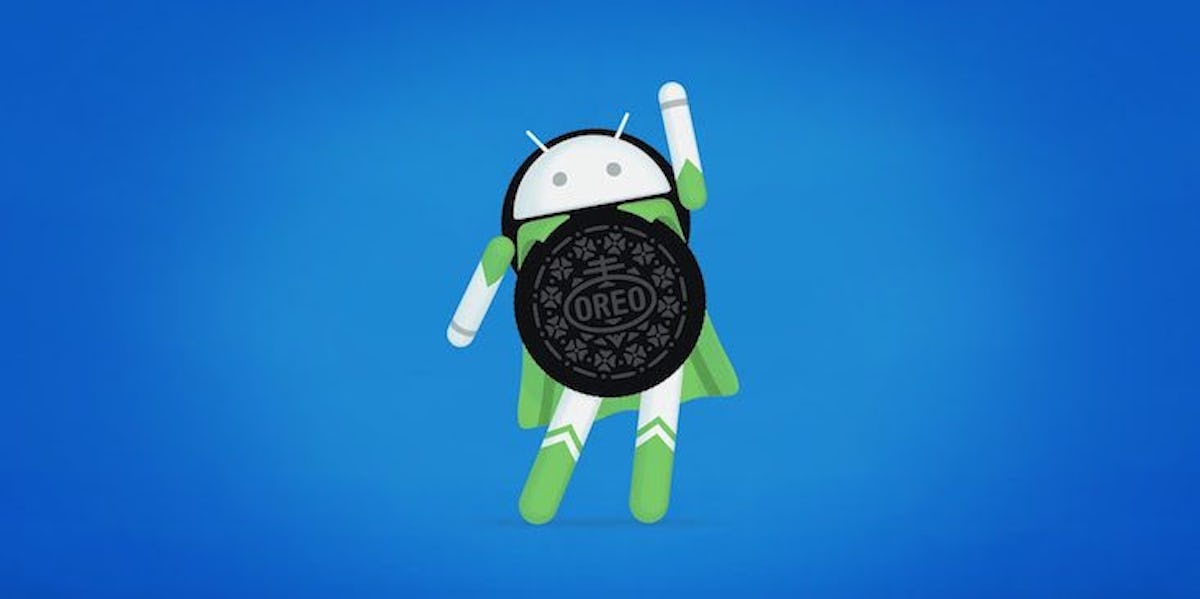 Android Oreo Software Update Is Here And The New Features Are So, So Sweet
Google/ Android
When I first heard the words "Android" and "Oreo" together in one sentence, I was really freakin' confused. I mean, why would the name of a phone be linked to America's favorite cookie? Was it a new name for the next big Oreo flavor? Or was it a high-tech device made by Android that helps you eat Oreos? The question taunted me for hours: What is an Android Oreo?!
Luckily, I finally know. For those of you out of the loop, an Andriod Oreo is definitely not an invention that'll help you eat Oreos (bummer, I know). Instead, the Android 8.0 Oreo -- also known as "Android O" -- is a new software update for Android phones that has a ton of sweet new features that'll make Android-loving hearts super happy.
However, before we get into Android's new features, I'll answer the question you're probably still wondering: "What the heck does this phone have to do with Oreos?" Well, to be honest, it doesn't have much to do with the cookie. Instead, Google reportedly partnered with Oreo to market the new operating system. Based off the fact Oreos are so popular right now, I'd say the marketing strategy was a success.
To make their strategy even better, Google made actual Android Oreo cookies for the big software reveal on Monday, Aug. 21. I got to try one at the Android Eclipse Event, and it was tasty AF.
Anyway, let's get into the awesome new features that Android Oreo has.
Picture-In-Picture
This cool new Android Oreo feature takes multitasking to a whole new level. Instead of interrupting your YouTube video, picture-in-picture lets you see two apps at once. In other words, you'll be able to watch videos of puppies and scroll through Instagram at the same time. Perfect!
Android Instant Apps
This feature is great for app lovers who don't have time to actually download them. According to Google's blog post, Android Oreo's Instant Apps feature will five you access to apps without going through the annoying downloading process. That's impressive AF.
Notification Dots
If you're anything like me, you probably have hundreds of red notification dots glaring at you whenever you unlock your phone. Thanks to Android Oreo's notification dots, you'll be able to swipe 'em away whenever you see them. The dots will appear on the apps to show you what's new, and can easily be removed whenever you please.
Autofill
Autofill on Android Oreo will is great for anyone super forgetful, because it's a feature that'll remember all your logins for you. In other words, you won't have to think twice about your passwords to get into your favorite apps, because Autofill has your back.
Sounds pretty cool, right? As an avid iPhone user, I'm pretty dang impressed. Other cool updates that'll come with Android Oreo include better security, speed, a stronger battery and over 60 new emojis. You can check these features out on Android's website if you're inclined to do so after reading this.
If you're already an Android user who's stoked about the Oreo update, you can rest assured the new software will be available on these phones by the end of the year: Essential, General Mobile, HMD Global Home of Nokia Phones, Huawei, HTC, Kyocera, LG, Motorola, Samsung, Sharp and Sony.
I don't know about you, but if I were the iPhone 8 right now, I'd be shaking in my boots. Android Oreo is coming, and it's lit.