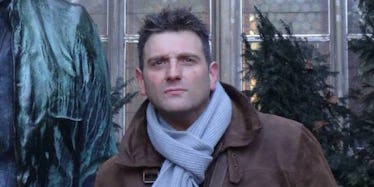 This Guy Was Born Without A Penis, So Doctors Are Making One Out Of His Arm
Facebook
Andrew Wardle was born without a penis, so doctors are using the muscle, nerves and skin from his arms to create one for him.
The 44-year-old caterer from Manchester was born with an extremely rare condition called bladder exstrophy, meaning his bladder was formed outside of his body.
As a result of this 20-million-to-one condition, Wardle was left with testicles but no penis.
The Daily Mail reports that, although doctors were able to fix his body so he could pee comfortably, they were never able to create a penis for him.
Wardle was left with testicles but no penis.
That is, until now.
Needless to say, the whole "make him a penis out of his arm" operation is an extensive one. It's taken four years to complete for his surgeons over at University College London, and there is still some work to be done.
The Sun created a great diagram to show us exactly how an operation like this works:
Wardle explained to the Sun that this operation is "one of the most expensive ever done" because the surgeons have the daunting task of completely building him "a new bladder and everything."
He went on to explain a better idea of where he was at in terms of his operation and the development of his penis: "This has taken four years. Basically my penis is there but needs to be tuned in."
As you can imagine, this operation is a pretty freaking big deal for Wardle, who gushed to The Sun,
The NHS doesn't always get the credit it deserves but the doctors have been amazing. I might even be able to have children once the final stage of the operation has been done, which is something I never thought was possible.
That being said, he's not quite ready for the actual "baby making" part of the whole "having children" process.
Wardle told The Sun, "I've been with my girlfriend for a few years now but it isn't the sex I'm looking forward to."
He painted a clearer picture of his point of view, elaborating,
When you're born without a penis and you can't have sex, you just don't get that excited about it. I'm just happy to get my life back but I could understand how if you were born with a penis but lost it, it would be hard. A lot of it is peer pressure – society places certain expectations on you and you feel like you have to match that. A lot of people do think it's about sex but it's not, it's about relationships and life.
I see where he's coming from. How can he look forward to something that hasn't been anywhere near his realm of possibilities until just now? He knows he's supposed to be excited because that's what society tells him.
Wardle concluded, "I'll do it when I'm good and ready."
Before he came clean about his condition to his girlfriend, Fedra Fabian (pictured below), Wardle tried to hide his condition by telling her he had a kidney condition. The two originally met abroad and started off their relationship as long-distance, which made it even easier for Wardle to keep his secret from her.
Fabian is now fully aware of her boyfriend's condition, and the couple was even featured in a documentary called "The Man With No Penis" together.
According to the Daily Mail, the two insist they have a "fully functional" romantic relationship.
Citations: Man born without a penis due to 20million-to-one condition is about to get a bionic one fitted but insists he's in no rush to have sex (The Daily Mail), 'IT'S NOT ABOUT SEX' Man, 44, born without penis because of '1-in-20 MILLION' condition has bionic manhood fitted – but says he's NOT excited about losing virginity to his girlfriend (The Sun)