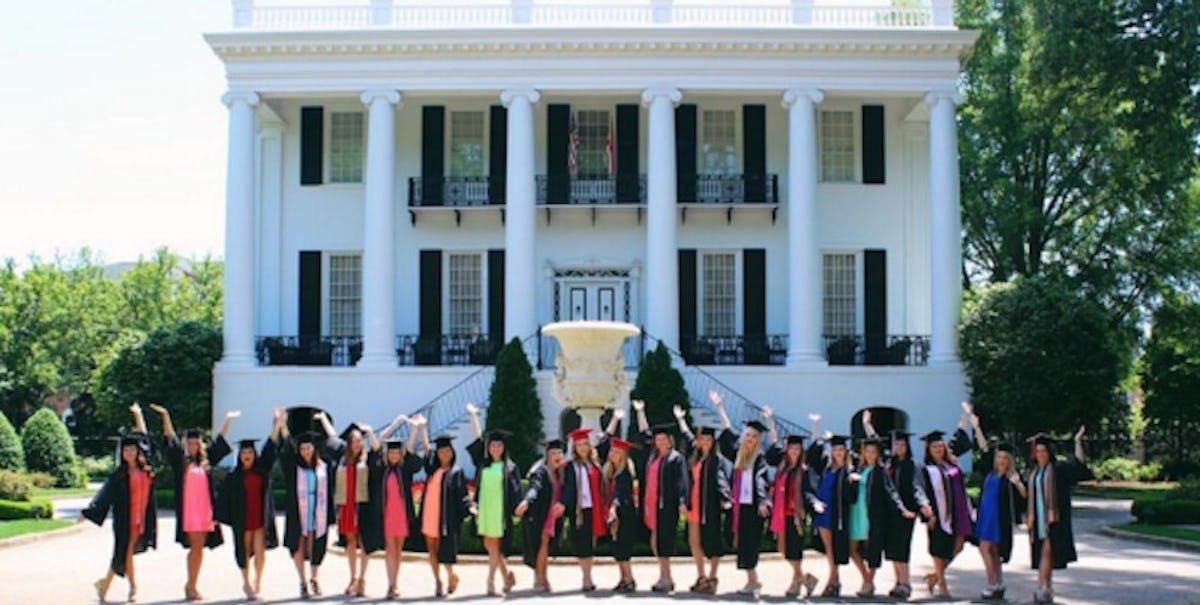 These Absurdly Gorgeous Sorority Houses Will Make You Want To Join Greek Life ASAP
Instagram
As a Brit, the image I have of sorority homes is straight out of "American Pie" or "Bad Neighbors 2."
Girls in underwear having pillow fights and glitter. Lots of glitter.
I envision every morning as "the morning after," and the house strewn in Solo cups, vomit and shame. There's probably always a frat guy passed out on the roof and a beer keg that never runs out.
You know, completely stereotypical.
I still like to think most of this happens, though -- especially the naked pillow fights (that's right, now they're naked).
One thing I didn't know about Greek life was how damn swanky the sorority houses are.
I mean, just check out Alpha Delta Pi in Texas -- it's basically a human-sized Wendy house.
AND IT COMES WITH A RIDICULOUSLY CUTE SORORITY POOCH.
Bling probably not included.
Honestly, it's no wonder every college grad I speak to is drowning in debt. You're basically living a millionaire's lifestyle at the tender age of 19.
Sign up for student accommodation in Leeds, UK, and you'll be lucky if you don't share your porch with a heroin addict (sorry, Leeds. I didn't mean that -- I know your homes don't have porches).
Let's continue our tour of sorority homes.
OMG, this Tri Delta house in Mississippi looks like the one out of "Cheaper by the Dozen." It screams "AMERICA."
BTW, when British people think of a classic US home, this is what we imagine. Bet it's even got those imposing staircases which split in the reception.
Wait, people actually live here!? No. Freakin. Way.
The girls at Alpha Pi Phi owning KAPPA... cottage?? That's no cottage -- that's a CASTLE.
They have never-ending porches at Phi Mu in Georgia.
Check out this Chi Omega sister showcasing their mega fitness suite.
And the girls of Alpha Gamma Delta in South Carolina live in the Disney castle, probably.