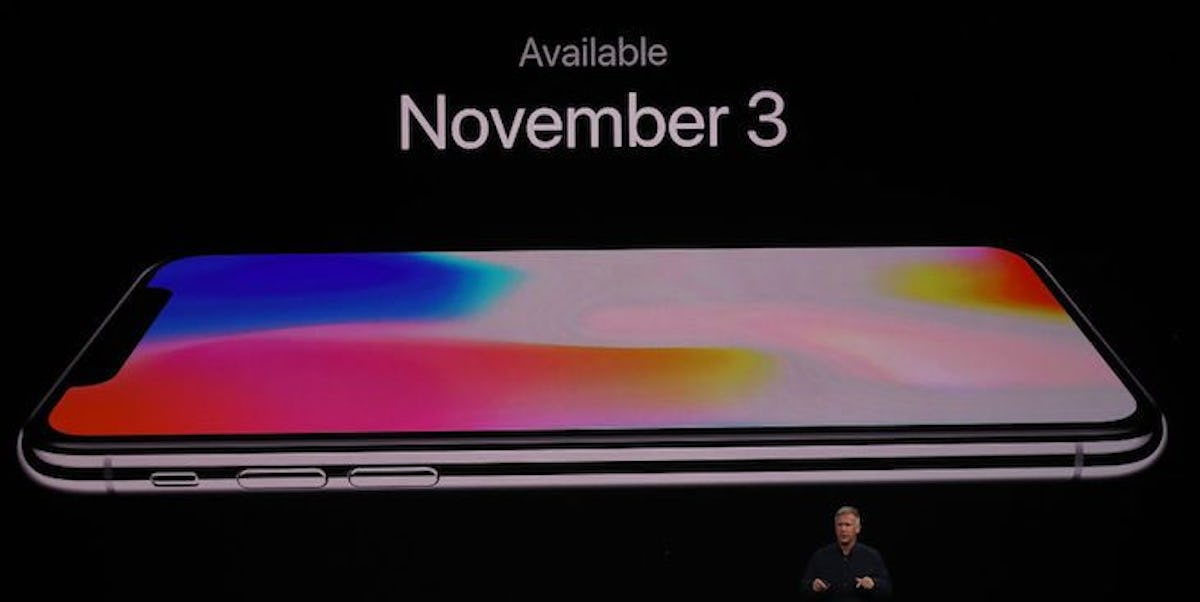 5 Burning Questions We All Still Have About The iPhone X
Justin Sullivan / Staff / Getty Images
With all the excitement leading up to the highly anticipated Apple keynote that took place on Tuesday, Sept. 12, it's hard to believe that it's actually over and done with now. If you've caught up with all the details that were revealed about the iPhone X this week, then you're ahead of the game because there was a lot to dissect. Even with the major information drop, there are still quite a few questions we have about the iPhone X.
Apple's keynote event revealed three new phones: iPhone 8, iPhone 8 Plus, and the coveted iPhone X. Not surprisingly, all eyes were on the iPhone X. Rumors about the phone's features had been swirling for months, and it was finally time to get the facts from Apple. Before anything else, you probably want to know if you will be able to afford the newest iPhone while still being able to bankroll the other things you enjoy in life (like buying groceries and paying rent). If a cool $999 sounds doable, then you'll want to learn a little bit more about this future-is-finally-here phone.
Read on to learn more about the five burning questions we still have about the iPhone X.
1. Does iPhone X Have A Headphone Jack?
You're probably aware that the iPhone 7 release saw the disappearance of the headphone jack on the smartphone. Instead, Apple provided AirPods that have a lightning connector. The AirPods can be used wirelessly if they are charged, or they can connect to the charging port on your phone with the lightning connector.
Don't look for this latest version of the smartphone to bring back the feature. iPhone X will stick with a design that is sans headphone jack. The phone will come with AirPods and a lightning connector, so you won't be totally out of luck when it comes to jamming out to your fave tunes on the go.
2. Does iPhone X Have Fingerprint Scanner?
With a new OLED screen that takes up the entire face of the iPhone X, you might be wondering where the home button will go. Well, that little button at the bottom is gone, and the iPhone X is full-on touchscreen.
As cool as the edge-to-edge display is, that means you'll no longer get to feel like a spy by using your fingerprint to unlock your phone. Don't worry, there is a new feature that'll definitely have you singing the Kim Impossible theme as you get into your phone. The plus side is that you won't have to take your gloves off in freezing temps just to get into your cell.
3. Does iPhone X Have A Charging Port?
The rumors were true -- iPhone X does have wireless charging. The glass back on the new phone will allow you to power up without a cord.
The good news is if you're not surrounded by wireless charging pads, you can still charge your phone the old-fashioned way with your lightning cord. It's good to know that you have a couple of options for charging methods because chances are you're going to want to be on your new phone all the time (get your money's worth).
4. Does iPhone X Have Touch ID?
If you've become a pro at opening your phone with the fingerprint scanner, you're going to have to start practicing your best smile because the iPhone X will forgo Touch ID.
Instead, it uses the front-facing camera to scan your face with your eyes open, and utilizes facial recognition technology to unlock your iPhone X. Did I not promise some major spy-like action?
5. Does iPhone X Come In Rose Gold?
If you're loving the way your current pinkish-gold iPhone complements all of your fave outfits and accessories, then get ready to find a new color palette for your wardrobe.
The iPhone X will only come in two colors: Silver or Space Gray. Don't worry, though, they both look sleek AF. You'll just have to get your pop of color somewhere else in your look. Hey, who doesn't want an excuse to go shopping?
So, now that you know a little more about this newest iPhone, you can decide which version is right for you (and your bank account).