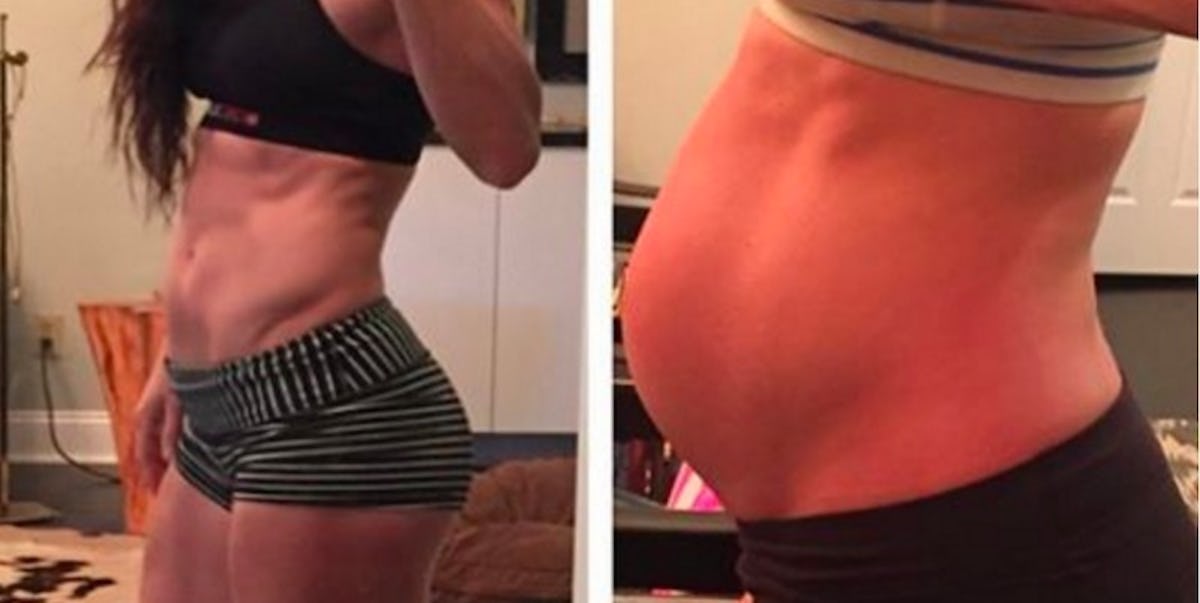 This CrossFit Star Is 34 Weeks Pregnant And Still Crushes Training Exercises
Instagram
I'm convinced Emily Breeze is not human.
Normally, when people start the journey of childbirth, they take it as a sign to slow things down a bit. It's like Mother Nature's version of a work break. I'm not saying being pregnant is easy by any stretch of the imagination, but I am saying everyone agrees if you have a baby growing inside of you, you get to take some luxury liberties, and that's totally fine.
Don't tell that to Emily Breeze.
The 31-year-old CrossFit social media star is 34 weeks into her pregnancy, and she's, honestly, probably more fit than anyone you've ever met.
Damn. Now, I feel terrible about myself.
In the Instagram post, Emily laid out all the mind-boggling facts for us, writing,
bump update as I'm closing in on #35weekspregnant .... Today was exhausting. In fact, I took my first nap during this journey and I'm still tired. Beyond tired. Lil' man continues to grow, kick, and dance throughout my belly. Especially at 5am and 11pm. He gets it honest. My butt and thighs are bigger, my dry skin continues to need bottles of lotion, my shoes seem to be more snug, and each day he sucks a bit more life out of me. I'm uncomfortable and yet, still completely in love with you. I continue to GROW and sometimes I don't recognize my own body when I see it in pictures or the mirror. Then I think about the fact that there is life inside of me and I get all mushy and tear up. We are so excited to meet you, so feel free to come at 37 weeks when you are considered fully cooked.
She's doing more as a pregnant woman in this single picture than I've done since February.
According to Us Weekly, Breeze can lift 155 pounds in her current state, a sharp decrease from her normal 325-pound lifting threshold.
This video is beyond impressive and slightly terrifying.
Aside from the fact Breeze has a tiny human growing in her body, literally everything else is the exact same as it was last year.
This baby is going to be fit as hell when it comes out.
Citations: CrossFit athlete continues training during pregnancy, deadlifts 155 pounds at 34 weeks along (New York Daily News), Trainer, at 34 Weeks Pregnant, Dead-Lifted 155 Pounds for 55 Reps (Us Weekly)