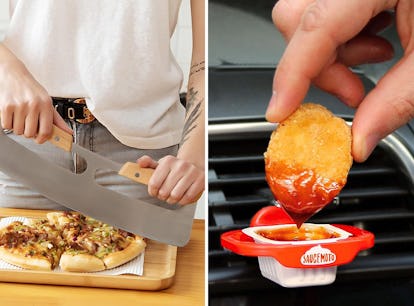 50 Weird Things Selling Out On Amazon Because They're So Damn Clever
A magic gadget that turns your cleanser into marshmallow foam? Say more.
Amazon
We may receive a portion of sales if you purchase a product through a link in this article.
That mess in the fridge makes dinner prep frustrating. Your car has turned into a disaster area. Your hair is frizzing and your skin is breaking out. Even everyday decisions are hard: Should I go to the pool or open a bottle of wine? Listen, though. There is a solution for every problem on your list. Hey, there are solutions for problems you haven't even encountered yet. Not to fret. There's an organizer for the fridge, a hack for keeping the car clean, and easy ways to prevent that hair frizz and breakout. There's even an easy answer for that challenging chill-time decision: Pour the wine into an unbreakable glass and take it to the pool. Consult this list of these 50 weird things selling out on Amazon because they are so damn clever and you will find the answer to all of life's difficult (and easy) questions.