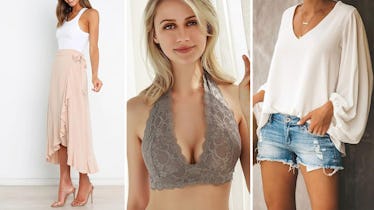 50 Basics Under $35 On Amazon That Actually Look So Expensive
Chic basics that you'll be reaching for constantly.
We may receive a portion of sales if you purchase a product through a link in this article.
Stocking your closet with essentials is, well, essential. But it can be quite expensive to keep enough tees, pants, and underwear on hand so that you don't have to do laundry every few days. There is no need to go into debt to keep an ample functioning wardrobe on hand, though. We found 50 basics on Amazon that actually look so expensive, you'll never believe their price. Instead of scrambling for an outfit next time you need to attend an event or wearing the same jeans too many days in a row, these wardrobe necessaries will make getting dressed easy.