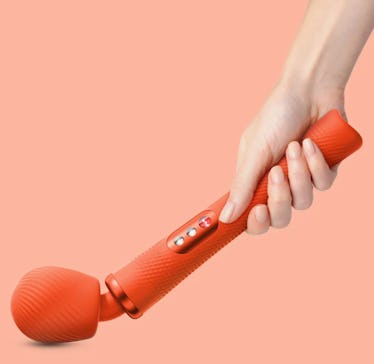 Have You Tried Edging? This Clever New Vibrator Promises To Supercharge Your Orgasms
Fun Factory's VIM vibrator means business.
We may receive a portion of sales if you purchase a product through a link in this article.
Wand vibrators have been a companion to clits since they first hit the market in the late '60s as "personal massagers." But traditional wands tend to be one-size-fits-all ... and definitely aren't tricked out with an edging program designed to take you to the verge of orgasm and back. Till you explode. That's one thing that sets Fun Factory's newest VIM vibrator apart. There's also a weighted motor that delivers ultra-rumbly, full-body vibrations — even for those who prefer low speeds — along with a flexible neck for better positioning and a broad range of intensity settings. Whether you're totally new to edging or just looking to take things up a notch, VIM may be just the vibe to get you there.
Germany-based sex toy brand Fun Factory set out to take the shortcomings (pun intended?) of yesterday's wand and revamp them for today's savvier, sex-positive shoppers. Its vibrations stay in the head of the device rather than coursing through the whole thing, which can be annoying for your hands (IYKYK). There's also the weighted motor that delivers a deep, delightful rumble — rather than a high-frequency whir — whether you're using it at top speed or its softest setting.
For the uninitiated, edging has its roots in BDSM and involves sensually extending the journey to orgasm, with the goal of intensifying that final, glorious peak when you get there. VIM helps make this adventure more straightforward, with a smart setting that builds in intensity before dropping off — over and over again. The rise and fall continues growing in energy until the climactic event. And, if it turns out edging isn't your jam or you just like to mix it up, there are other intelligent settings designed to bring on quickie "Intense" or "Deep" orgasms.
Many old-school wands have but two settings — which can feel like "not enough" or "too much." VIM has a wide range of vibrations and buttons akin to volume controls so you can adjust the rumbles just how you like them. You can do so even when your hands are covered in lube (or whatever else) thanks to a unique textured handle that provides excellent grip.
The flexible neck is another notable design element. Standard, rigid wands can be annoying to wrangle, especially when using them during partnered sex. But VIM allows for movement with the head, making it easier to use for any position and with any body.
For a better idea of what the VIM vibrator is capable of, just look at what some reviewers have had to say about it:
"I love the [rumbliness] of this toy. Also the texture of it is different and feels great. I love that the head is flexible and that the handle is also soft and textured to be good for shared play." — A.P.
"The wand has been amazing for both solo and an added enjoyment during sex. I hate vibrators that just vibrate. I love the low rumbling vibrations the wand has [...] One of my best purchases of a sex toy ever." — S.
"I just love this wand! It's fantastic to be able to reach your orgasm and then be able to instantly and easily scale down the intensity to ride the waves, rather than having to turn the thing off or toss it across the bed. Thank you Fun Factory, for another amazing product!" — Z.