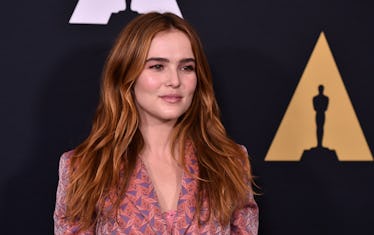 Zoey Deutch Got Brutally Honest About James Franco's Lack Of Kissing Skills & Yikes
Alberto E. Rodriguez/Getty Images Entertainment/Getty Images
Zoey Deutch has no time for bad kissers, especially if his name happens to be James Franco. The 23-year-old actress appeared on Bravo's Watch What Happens Live and spent a little time dishing on what it was like to work with Franco. The two actors worked together back in 2016 on a film called Why Him? and based on Zoey Deutch's comments about kissing James Franco, I'd bet she's asking herself the same question.
It all started when Andy Cohen, host of Watch What Happens Live, began taking fan questions. That's always a precarious situation, in my opinion, because you just never know what fans are going to ask. Well, one fan sent in a seemingly innocuous question about kissing Franco and things got a little hairy.
Reading from a cue card, Cohen posed the fan's question to Deutch. "How do you describe James Franco's kissing style?" he said.
Deutch's response? "Meh."
Yikes! Cohen appeared to be somewhat in shock at Deutch's comment. "Really? Not great?" the host asked. "Well, was it lunge-y? Was it too much?" he continued.
Deutch reiterated her initial sentiment. "Just not... meh!" And this, of course, prompted some serious laughter from the audience.
Cohen desperately tried to help her articulate what she meant. "Not memorable," he offered. Deutch agreed wholeheartedly with that sentiment.
In true Andy Cohen fashion, the host wanted to know all the gory details. "How was the breath?"
Duetch's answer was pretty shocking: "Actually, not good!"
Ooh, burn!
Deutch and Franco shared several kissing scenes in the 2016 film Why Him? The two actors played love interests, which I'm sure left Deutch simply aching for a different acting partner, especially since kissing Franco seemed to be a rather tortuous experience. Deutch also had a part in The Disaster Artist, which is one of Franco's more recent films.
Poor gal! Hopefully, she's been partnered up with better actors and better kissers in other roles.
Watch the video of Deutch talking all about Franco's kissing skills down below:
Apparently, her Set It Up co-star Glen Powell seems to have outshone Franco in that department. Deutch explained on Watch What Happens Live that she and Powell enjoyed working together a great deal. So much so that when they worked together in 2014, they vowed to work together again someday:
We actually shot a movie called Everybody Wants Some together four years ago and on the first day we met we vowed we'd make a smart, funny, updated rom-com and we ended up doing it!
Deutch and Powell's film Set It Up is a new Netflix film. The romantic comedy follows two overworked assistants who scheme and plan their way to more workplace freedom by setting their bosses up with each other. Deutch and Powell play the two main characters and it seems like they had a wonderful time doing it!
After her appearance on Watch What Happens Live, Deutch posted a few pics on Instagram to show off her look for the evening (which is amazing, by the way!):
Deutch has actually had a lot going on lately. One of her recent films, The Year of Spectacular Men, was finally released in theaters on June 15 after struggling a bit to find distribution. The film was directed by her mom, actress Lea Thompson, and written by her sister Maddie Deutch. So, it was essentially a family affair.
All in all, Deutch is definitely making a name and career for herself. With any luck, she won't have to kiss Franco again anytime soon. And if she does, at least she'll know what to expect!