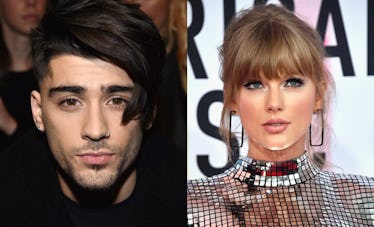 Zayn Malik May Have Confirmed That Wild Fan Theory That Taylor Swift Was In The Suitcase
Pascal Le Segretain/Getty Images Entertainment/Getty Images | Frazer Harrison/Getty Images Entertainment/Getty Images
One would hardly call Taylor Swift mysterious. She's pretty open about her music and her life, unless it's related to her love life. But would she really go as far as traveling in a suitcase to stay out of the public eye? Well, a lot of her fans seem to think so. And in a recent interview, Zayn Malik has now seemingly confirmed that Swift actually does travel in a suitcase sometimes. So, what's the deal? If Zayn's comments about Taylor Swift traveling in a suitcase are to be believed, then it seems the singer goes to great lengths to avoid the paparazzi. And you know what? That's actually a pretty crafty way to keep a low profile! Elite Daily reached out to Swift's team for comment on Malik's claim, but did not hear back by the time of publication.
So, before I delve into Malik's comments about Swift, let's go all the way back to July 2017 when this suitcase rumor first surfaced. According to Glamour, Splash News posted photos of a large suitcase being hauled out of Swift's New York City apartment. In the caption of the photo, Splash News said that Swift was actually in the suitcase.
"Taylor Swift being transported in a huge suitcase from her Tribeca apartment… almost a dozen of Taylor Swift['s] security guards were present to move this package carefully as Taylor Swift remains to be unseen for a long time," the Splash News caption read.
That's a pretty wild assumption that Splash News conjured up there. But Swift's fans took to the theory straight away, as is evidenced by the following tweets from 2017:
And now it seems like Malik has confirmed the rumor. Or at least, that's what fans would like to believe. Malik recently did an interview with Vogue U.K. and during the conversation, he alluded to the suitcase rumor. Here's what the article passage said:
[Malik] seems more like an undergrad than an internationally swooned-over famous person. Though his small talk is a giveaway. "She was travelling around in a suitcase," he says, eyes agog, of his pal Taylor Swift's ability to avoid the paparazzi.
Malik's comments may not seem like much, but at the very least, it gives some weight to all the fan theories that have been swirling about since July 2017. And all those fans who've truly believed in the suitcase theory all this time are really thankful to Malik for seemingly confirming it. They're all taking to Twitter to say they were right this whole time.
Here's what the fans are saying on Twitter right now:
Needless to say, Swift's fans are basically going wild over Malik's comments about her traveling in a suitcase. Whether Swift actually did travel in a suitcase to avoid the paparazzi is debatable, in my opinion, but at least it gives all the Swifties out there something to have a little fun with!
I, for one, am going to wait until Swift actually confirms herself that suitcases are her preferred method of transportation. But until then, I'll reserve judgment and just take all this stuff with a grain of salt. It's hilarious to think about, though!