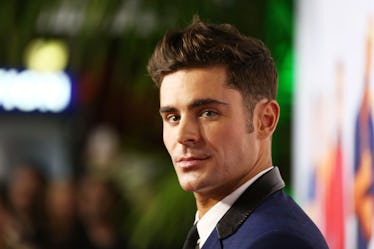 Zac Efron's Transformation Into Serial Killer Ted Bundy Will Give You Serious Nightmares
Brendon Thorne/Getty Images Entertainment/Getty Images
Zac Efron took that saying "new year, new you" to a new extreme with his first big job of 2018. The former Disney heartthrob recently finished playing serial killer Ted Bundy in the upcoming film Extremely Wicked, Shockingly Evil and Vile, and ICYMI, Efron's first Instagram photo of himself in character practically broke the internet. Although a release date for the movie has yet to be announced, the story reportedly takes place from the POV of Bundy's longtime girlfriend Elizabeth Kloepfer, which had potential viewers concerned that the film would glorify Bundy's actions. Zac Efron's transformation into Ted Bundy is definitely an intense one, but Efron has now spoken about his balance between the character and his own personality.
Speaking to Entertainment Tonight, Efron spilled on his experience portraying Bundy and how the film conveys the murderer's ability to charm so many people:
It's very interesting. I think the movie itself is really deep. It doesn't really glorify Ted Bundy. He wasn't a person to be glorified. It simply tells a story and sort of how the world was able to be charmed over by this guy who was notoriously evil and the vexing position that so many people were put in, the world was put in. It was fun to go and experiment in that realm of reality.
Directed by documentary filmmaker Joe Berlinger, Extremely Wicked, Shockingly Evil and Vile wrapped production in February. To commemorate the day, Efron shared a sped-up Instagram video of his transformation into Bundy. Although he had shared some production photos of himself and other actors before, the video was fans' most intimate glance at Efron becoming Bundy.
On the same day, Efron also shared behind-the-scenes pictures that focused on a scene detailing one of Bundy's trials in court. Given Hollywood's love for dramatics, I'd assume that the trial the movie script focused on was Bundy's last one in 1980. If you compare Efron's outfit in these photos to snapshots of the actual Bundy in court, the similarities between the men are actually freaky.
Portraying such a twisted figure in history could certainly take a toll on an actor's psyche, but Efron is insistent that he left the character behind, telling ET:
I didn't take it home. I didn't go full method and I didn't have to, like, do any weird stuff to anybody to get into character. It's a different type of film.
Efron headlines a cast that also includes Lily Collins as Kloepfer, Kaya Scodelario as Bundy's ex-wife Carole Anne Boone, and Jim Parsons as prosecutor Larry Simpson. When filming wrapped, Collins shared a heartfelt message on Instagram honoring Berlinger:
This is not an ending but merely the start of something truly special. This journey has been utterly life changing for me. Thank you from the bottom of my heart for believing in me from day one and entrusting me with this story. So sad to finish but I'm leaving incredibly proud and empowered. You have given me something truly indescribable that I'm forever grateful for.
Just as playing Bundy was the first seriously dark role in Efron's resume, playing Kloepfer was a similarly new kind of venture for Collins. The intense demands of the role definitely seems to have benefited her in her ongoing job as Fantine in a PBS/BBC adaptation of Les Misérables.
As for Efron, he's now teamed up with Matthew McConaughey for the new film The Beach Bum, which is written and directed by Spring Breakers creator Harmony Korine. After starring in films like Neighbors and Baywatch, The Beach Bum seems to contain the kind of role Efron has regularly gravitated toward as an adult. That being said, I'm seriously looking forward to seeing if any award recognition comes from his role in Extremely Wicked, Shockingly Evil and Vile, which I may have to watch through my fingers.