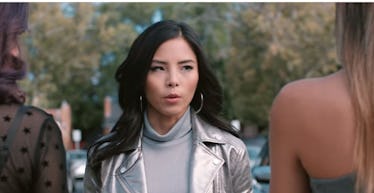 There's A New Series Coming From The Makers Of 'Grey's Anatomy' & It Looks So, So Good
YouTube
Few companies have changed the face of the internet as much as YouTube since it launched in 2005. Originally created as a way for unknown filmmakers to share their work on the internet, it quickly morphed into an easy way to stream TV shows, and then into a way to listen to music for free. In 2015, the company launched YouTube Red, viewed as an attempt to get back to those roots of producing movies and series that TV channels reject. Now, with the new Youth & Consequences coming to YouTube Red, they've picked up a series from one of the biggest producers in the game.
Since the launch of the premium channel on YouTube's website, the shows that have turned up on Red have most been stuff that one might call "not ready for primetime." Listicles of their content with such titles as "YouTube Red Shows Ranked By How Much You're Not Gonna Watch Them" give a sense of most critics' attitudes towards what YouTube Red produces. That doesn't mean the shows are bad, but it's an impression those behind the service have an uphill battle to fight.
So, it's refreshing to see someone step into the YouTube Red ring with a stellar reputation for hit-making, and a trailer for a show that looks like it could hold it's own against any CW program. Perhaps it's opening line could serve as a thesis for the subscription service:
If there's one thing I've learned, whether it's high school or the real world, it's that the only way to get respect is to take it.
Youth & Consequences comes from The Mark Gordon Company, which has been behind such films as Saving Private Ryan, The Day After Tomorrow, and Speed, just to name a few.
On television, Gordon is an executive producer on such hits as Criminal Minds, Ray Donovan, and Quantico, as well as being the muscle behind Shonda Rhimes' first hit, Grey's Anatomy.
That background in working with female-lead series like the latter two shows is evident in this fun take on the high school drama genre.
According to the press release:
Youth & Consequences is an exciting update to the high school genre, being billed as a 'woke' version of Mean Girls that boldly tackles hot-button issues like feminism, gender identity and the seemingly life-or-death stakes of adolescence — with all the qualities of a binge-able comedy: makeovers, make-outs and clique wars. The series follows 'Farrah Cutney' — the girl everyone wishes they were in school: a master of her domain, queen of 'spin' and the resident 'fixer' — at the center of a rumor storm that she can no longer control.
So, why is Mark Gordon putting this show on YouTube Red and not, say, The CW? One reason is that the lead is played by one of the stars that YouTube can claim to have produced, Anna Akana, who currently has over two million subscribers and 168+ million views of her work. ​You can check out her channel here.
Akana is joined by teen stars Sean Grandillo (of The Real O'Neals) and Kara Royster (of Pretty Little Liars).​ The adults include Marcia Cross (of Desperate Housewives fame) and Cary Elwes (of The Princess Bride).
The series' trailer arrives this week against a backdrop of YouTube Red still struggling to define itself. As Polygon notes, most of those who create content for YouTube Red dream of being able to pull off series like this one. Let's see how it fares.
The full series of episodes for Youth & Consequences will arrive on YouTube Red on March 7, 2018.