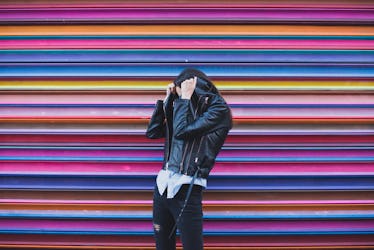 Your New Year Career Horoscope Reveals Where You'll Succeed & What You Should Work On
What's the first thing that comes to mind when you think about ringing in the new year? Is it your love life, or where you'd like to travel in the upcoming months? Who knows, maybe it's neither. Although, your official career horoscope for 2019 is here, and if you're a fellow goal digger like myself, then this is your jam. Fact is, goals are everything, and correct me if I'm wrong, but there's no better feeling than the feeling of accomplishment. Whether it be personal fulfillment, or general achievements, it's always nice to feel validated, which brings me to my next point.
There's no such thing as overnight success, stargazers. Working towards your goals, and "getting to the top of the mountain," is basically a never-ending process. Interestingly enough, we're getting closer to Capricorn season, and this is precisely what this astrological energy is trying to instill within us all: drive, focus, perseverance, and pragmatism. Like I always say, nothing is coincidence, and the winter season is a symbol of both death and renewal; therefore, it's a moment of letting it all go, in order to start again. Speaking of which, it's time to channel your inner go-getter, and do the best you can.
With that being said, here's what the stars have to say about your career in 2019:
Aries: You're On A Serious Mission
Saturn and Pluto are in the process of helping you redefine your goals, and life mission. Don't stop; won't stop. You know exactly what you want, Aries. Plus, your ruling planet Mars will be direct all year, and you will have the energy and red-hot passion to finish what you started.
Taurus: You're Expanding Your Audience
The cosmos are restructuring your faith, personal philosophy, and the way you see "the bigger picture." For those of you looking to publish your work, become an entrepreneur, or travel abroad, 2019 is your year.
Gemini: You're Making The Right Connections
It's in the bag, Gemini. Your professional life is skyrocketing, and you're finally getting the recognition you deserve. Plus, there's nothing you love more than networking, and this is exactly what this year will be about. In fact, you might have already gotten a glimpse of this during the new moon in Sagittarius, earlier this month.
Cancer: You're Doing What You Love
Hello there, boss babe. Jupiter is bringing abundance and expansion to your practical sixth house of routine, and you're finally enjoying your day-to-day grind. Truth is, you've come such a long way, in regards to your work life, and things are finally starting to make sense.
Leo: You're Recognizing Your Talents And Soul Purpose
You've always been the creative type, but there's definitely something brewing for you this year, Leo. For starters, you will be experiencing radical changes, in regards to your professional life, as well as in your daily routine. However, in the midst of the chaos, you're finally learning how to stay true to your individual expression.
Virgo: You've Got Lots To Reflect On
Oh, Virgo, just know the universe will never give you more than you can handle. Truth is, there will be a number of retrogrades this year, and yes, they will also be playing a role in your professional life. On another note, however, you will have an incredible support system in the home front this year, so take this time for yourself, and reflect on your goals.
Libra: You're Killing The Game
There's a lot of changing headed your way this year, Libra. TBH, these changes will be both personal and professional; however, you will be feeling a lot more confident, in regards to your goals and life mission. Furthermore, you will be making new connections, and finally seeing the fruits of your labor.
Scorpio: You're Making Money Moves
You made it, Scorpio. All of your hard work is finally starting to pay off. However, aside from experiencing enormous financial breakthroughs, you're also owning your self worth this year. Fact is, things are indeed materializing in your favor, Scorpio.
Sagittarius: You're Accomplishing Whatever You Put Your Mind To
Jupiter is in your sign this year, Sagittarius. You're the celestial fave, and well, the world is your oyster. However, in the midst of this cosmic goodness, it's important for you to stay focused, in order to achieve all that you're capable of achieving.
Capricorn: You're Learning The Beauty Of Authenticity
You're experiencing deep transformation this year, Capricorn, and it's crucial that you stay authentic in the process, in order for you to succeed, both personally and professionally. Hint: there are a few people you need to cut out of your life in the meantime.
Aquarius: Your Daily Routine Is Changing
The year 2019 will be a karmic one for you, Aquarius. Although, one thing's for sure: the upcoming eclipses will indeed shake up your day-to-day life, not to mention who you are behind-the-scenes. This will definitely affect your work routine, so stay tuned.
Pisces: You're Getting A Burst Of Luck
Pluto and Saturn are indeed rebuilding your extended network from the ground up, but in the midst of what may feel like chaos, Jupiter is also blessing you with abundance and expansion. Stay focused on your goals this year, Pisces. There are beautiful beginnings headed your way.