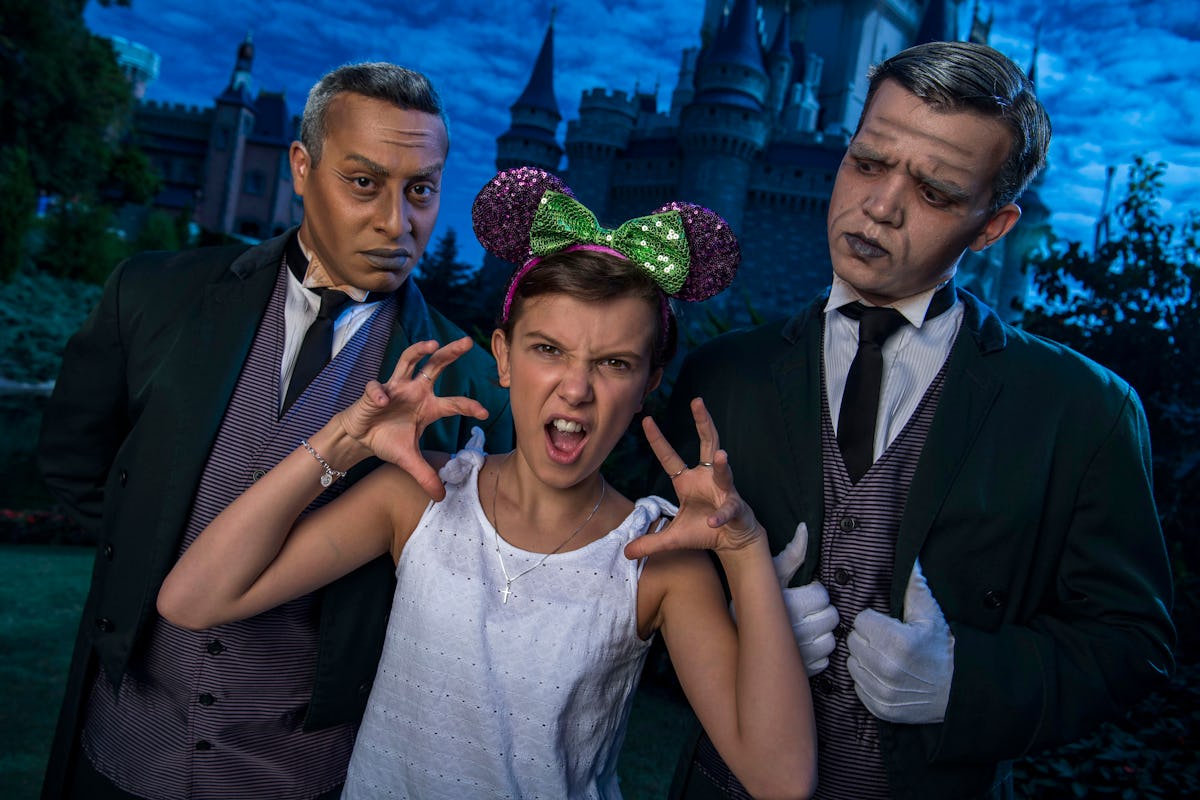 Your Oct. 30 Weekly Horoscope Is Here To Provide Clarity After Your 'Stranger Things' Binge
Handout/Getty Images Entertainment/Getty Images
It doesn't take a psychic to guess: You probably spent the weekend glued to the couch like you were recovering from a procedure, watching every episode of "Stranger Things." I mean, poor Eleven, how f*cking terrible and weird can one kid's life get? Yes, the weekend was an emotional roller coaster you never left the house to ride, but now we can get back to life, and your Oct. 30, 2017, weekly horoscope is here to give you a peek at the potential energies swirling in the air this week. Think of this as your experiential weather report. It's Halloween, a time when we embrace both fear and love, good and bad, tricks and treats.
The full moon on Nov. 4 at 1:23 a.m. ET will bring to light these polarities, as full moons are a time of harvesting. They can trigger events that lead to endings, and are often feared for that reason. Let's remember though, that endings are actually new beginnings in disguise, and keep in mind that we have as much a reason to celebrate them as anything else. I mean, you're not gonna throw a party when you're kicked out of your apartment. I'm just saying when the going gets tough, try to remember that it's probably for the best.
Aries
You've got money on your mind this week, Aries. Do you have debt that needs to be paid or a raise you've considered asking for? You could have a check come through that you've been waiting on. The change in your earnings will probably be a friendly one, but with the full moon on Nov. 4, you never really know. What you can bet on though is that whatever happens, it will be for the best.
Taurus
Socially, you can prepare to spend this week out and about with opportunities to party coming at you from every angle. Make sure you get enough rest and stay hydrated.
It seems Venus, your planetary ruler, is going to have you celebrating the holiday with co-workers, solidifying your support systems, but be prepared to let go of anyone you don't need in your life as the full moon comes through on Nov. 4.
Gemini
Mars is in fellow air sign Libra, bringing out your charm and charisma throughout the week. You might not even feel as though this week is a typical work week with the amount of socializing you'll be doing. Uranus trines Saturn on Nov. 3, a time when you'll feel the urge to break free from anything in your life that feels restrictive, and it seems you may meet someone or experience something around this time that could introduce a new path forward without destroying what stability you already have.
Cancer
Your ruling planet, the moon, is in Pisces, making this Halloween a very imaginative one for you. You can really throw yourself into the Halloween spirit this year, and your costume is likely to be one you'll be very proud of. On the Nov. 4 full moon, it looks like something will be coming to an end at that time; you could be leaving an organization you've volunteered your time to or finishing up a creative project you've been working on.
Leo
This week you're likely to be in the spotlight (as always) on Halloween, especially if you decide to take the reigns and make all the plans for your friend group, but more than anything your focus this week will be on your career, because the full moon is in your tenth house of honors and achievements. It looks like it's going to be a friendly full moon, bringing good news, but it would also put an end to something first. Whatever happens, just know that the good news is coming. You're on the up-and-up!
Virgo
You've got three planets: the sun, Mercury, and Jupiter in your third house of communication this week, making you a very busy bee. If you've been working on a writing project, you can expect to make a lot of headway in that area. Or, you could have an opportunity around the full moon for a local trip to speak to a crowd or meet with colleagues to get your name out there. If so, I would highly suggest taking that trip. It'll likely be one for the books.
Libra
With a flurry of planets affecting your eighth house of sex, death, and transformation, this week is likely to be impacting you on a cellular level. Your focus will be on harvesting the good from your life while you clear out all the "extra" stuff that could be bogging you down, possibly including a few individuals who have been f*cking up your vibe.
Scorpio
With the sun, Mercury, and Jupiter in your solar first house, you'll feel like you are an infinite human being who has limitless power to do, say, and be whoever the f*ck you want to be, and guess what? You are.
Make this week the one where you go out on a limb, take chances you haven't taken yet, and experiment in ways you never thought you could. You will surprise and inspire yourself.
Sagittarius
This week will inspire you to finally quit whatever health habits have been holding you back — the ones you've been putting off for however long. Saturn is still in Sagittarius, providing you that extra discipline, and you've got three planets in your twelfth house of healing to provide the compassion you need to focus on self-care. Not to mention, the full moon approaching on Nov. 4 could trigger an outside event to give you that extra push (or shove, if you're gonna be a stubborn b*tch about it).
Capricorn
You'll wrap up this October with a finite focus on romance and fun. Halloween brings you opportunities to get out and mingle, and you'll have the opportunity to get a little work in as well, since you'll likely run into a few people who can help you put some finishing touches on a work project. If you've been seeing someone, the full moon will create exciting, out of the blue opportunities to bring a fresh perspective to your relationship.
If you feel deep down the relationship is flawed, there's a chance it could come to an end, ushering someone new into your life.
Aquarius
The full moon on Nov. 4 will have you focused on your home and family, which you might have been neglecting with the amount of work you've had lately. It's completely understandable, but you'll do a much better job of striking a balance between the two in this week leading up to the full moon. If you have home renovations or are planning a move, Uranus trines Saturn to provide you the extra discipline.
Pisces
Having the moon in your sign on Halloween guarantees you'll come up with the most imaginative costume out there, even if you wait until the last minute using items you find around the house. The full moon will light up your third house of communication, giving you a chance to finish up a communications project, like a blog or a book you might have been working on.