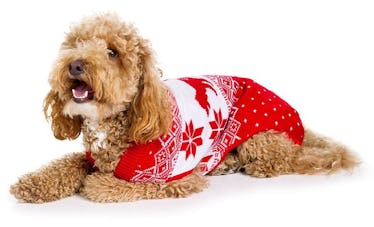 This Ugly Sweater Contest For Dogs Will Make You Cry Tears Of Christmas Joy
'Tis the season for ugly sweaters, whether you're a human or a dog. That's right: Ugly Christmas sweaters can be worn by pups, too, and the "Your Dog's Ugly Christmas Sweater Contest" By Wag! and Tipsy Elves is here to prove it. The festive competition lets pet parents dress their dogs in the cutest (er, I mean "ugliest") Christmas sweaters that they possibly can. The winning pups will score a handful of prizes for their owners — and once you find out what those prizes are, you'll want to set up a winter photoshoot with your fluffy companion ASAP.
Before you dress your pup in a cozy sweater and start taking photos, you should probably know when the contest begins and how long you have to enter. According to Wag!'s website, pet owners could have started submitting photos of their festive dogs on Monday, Dec. 3. (Those of you who already have a sweater picked out are ahead of the game.) Thankfully, submissions won't close until Sunday, Dec. 16 — so you still have a decent amount of time plan your photoshoot.
What are you waiting for? Start looking for an ugly Christmas sweater that your dog would love and take some photos. If you don't have an ugly sweater fit for your little guy (or gal), you can find one on Tipsy Elves' website. The company has a ton of adorable sweater options that you can choose from, so go ahead and buy your pup an early Christmas gift. Not to mention, Tipsy Elves partnered with Wag! to make the contest happen, so you can also thank them for all of the cute dog pictures that you'll see in the future.
Once you have the paw-fect sweater for your fluffy friend, you can start taking photos. While you're snapping away, there are a few things you should keep in mind. According to a Wag! spokesperson, entrants are encouraged to go above and beyond with the photos — whether that means incorporating family members or using props. In other words, have fun with it and pose with your pup!
Once you have the paw-fect pic (SORRY, I did it again), you can go ahead and submit your photo to the contest. In order to do so, visit Wag!'s entry page, scroll down, and fill out the submission form. While you're filling it out, you'll need to provide your name, email, your dog's name (obviously), and a photo caption. Then, you can upload your photo and submit your entry.
Once Dec. 17 comes around and submissions have closed, the public can begin voting on the winning pup. They'll have until Dec. 20 to vote, and the winner will be announced on Dec. 21. Luckily, there will be three winners, which means a handful of gifts will be given when the contest closes. First place winners will receive $500 in Wag! credits, a $250 Wag! swag bag, and a $500 Tipsy Elves gift card. For more information on what the second and third prize winners will receive, visit Wag!'s contest page.
I don't know about you, but I'm excited to see festive dog pics when the voting begins. I can predict that each and every dog will be extremely cute, and I wish all of them could take home a prize.