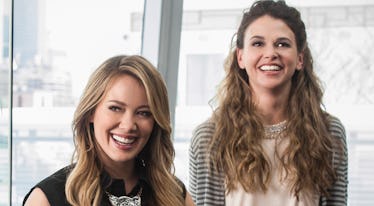 'Younger' Just Got Renewed For Another Season So Let's Hope Liza Can Keep Up Her Lie
TV Land
Before Younger even kicks off its fifth season on Tuesday night, TV Land has announced that the age-defying rom-com is getting another season to follow up this one. That's right, you guys — not only do we get a fresh season that is just starting on TV Land right now, but also a whole other season of Liza, Kelsey, Josh, Charles, and Diana to continue the story after this one. Younger Season 6 is officially happening, per the Hollywood Reporter, so let's talk about when we can expect to see it and what it could possibly look like.
This marks the latest occasion that TV Land has renewed Younger for a future season ahead of a season premiere, something that the network has done consistently with its tentpole scripted series since Season 2. The move once again enforces how well the millennial sitcom is performing for the network, and even though the show's premise may seem unsustainable, it looks like Younger is going to stick around even if Liza's secret finally comes out to everyone.
When Younger first debuted back in 2015, the show was primarily concerned with its deceitful premise: 40-year-old Liza Miller (Sutton Foster) had to keep up a lie that she was 26 in order to keep her new job at an ageist publishing company following her divorce. But now that the show is about to enter its fifth season, Younger is much less concerned with the age trickery that its title suggests (since most of the main cast knows her secret now), but rather the steamy, unpredictable love triangle that Liza has found herself in with the impulsive young tattoo artist Josh and her established boss Charles.
Going into Season 5 — which premieres on Tuesday night at 10 p.m. ET on TV Land — that love triangle is in a precarious position. The fourth season of Younger ended with Josh getting married in order to help a former flame get a green card (even though he had just professed his love to Liza the night before the wedding), and Charles calling up Liza for an unknown reasons after his ex returned to his life with a tell-all book about their marriage.
With her love life on the rocks on both the Josh and the Charles side of things, Liza is starting off Season 5 in a confusing place, which only becomes more complicated since the premiere episode is centered on the #MeToo movement, according to an interview Sutton Foster gave The Daily Beast. Following the societal reckoning of powerful men misusing their positions of power to abuse women, Charles and Liza will be forced to do some soul-searching about whether or not their relationship has ever been appropriate. The TV Land president underlined that this season of Younger is outstanding in his Season 6 pick-up announcement, so fans will have a lot of new twists to look forward to before the wait for Season 6 begins.
As for when we can expect Season 6 of Younger to come into our lives, it is not easy to predict. Although the show followed a somewhat erratic release schedule for its first few seasons, both Season 4 and 5 premiered in June of 2017 and 2018, respectively. That would suggest that the sixth season will probably premiere in June of 2019.
But let's not get ahead of ourselves — we have still got an entire new season of Younger to look forward to before we have to start worrying about Season 6's premiere date. Season 5 of Younger consists of 12 episodes, and it premieres on Tuesday, June 5 at 10 p.m. ET on TV Land.