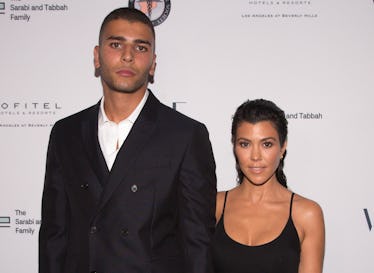 Younes Bendjima May Have Had A Negative Effect On Kourtney K's Family Relationships
Gabriel Olsen/Getty Images Entertainment/Getty Images
Now that Younes Bendjima is out of Kourtney Kardashian's life for good, details about their two-year relationship are coming to the surface. Despite her reality star status, Kardashian has always been notoriously private about her relationships. Her romance with Bendjima was no different. But according to a new report from People magazine, Younes Bendjima's effect on Kourtney Kardashian's relationships wasn't exactly positive.
In People's Aug. 16 report, a source close to the situation revealed that the ill-fated Kardashian-Bendjima relationship may have actually put a damper on Kardashian's relationship with her family.
"Kourtney was always so private and closed off when it came to Younes, and that really distanced herself from her sisters," the source told People. "Things are fine with them now and I'm sure they'll get even more back to normal now that it seems he's out of the picture for good." Elite Daily reached out to Kardashian and Bendjima's teams for comment on this report, but did not hear back by the time of publication.
It sounds like Kardashian's commitment to Bendjima came at a high price. At the very least, Kardashian and her sisters seem to be back on track now that Bendjima isn't in the picture anymore.
Unfortunately for the Kardashians, though, the ups and downs of their sisterly bond are currently being played out on season 15 of Keeping Up with the Kardashians. On the show, the tension between Kardashian and her sisters Kim and Khloé are only just rising to the surface. Their feuding ways are expected to escalate as the season progresses.
During the season premiere, which aired on Aug. 5, Kardashian was grappling with being called the sister that's "the least interesting to look at," which totally set her off.
Here's how that wild argument went down:
Then, on the Aug. 12 episode of Keeping Up with the Kardashians, the tension came to a head and Kardashian agreed to have a group therapy session with her family. Here's how Kardashian handled the therapy session:
I'm here to do this group therapy with my sisters, which I didn't think that we needed. But I think that because we just don't communicate that well, maybe having somebody else guide the conversation could be very helpful … I think generally we just need to learn how to communicate together. And I'm the one who invented 'mean fighting,' just saying the meanest things possible, but I'm just not wanting to fight like that anymore. I don't want to be mean and I don't want to spend my time around people that are mean and putting me down.
Overall, the therapy session seemed really productive and allowed Kardashian to speak her mind in an environment that was safe and supportive. Thankfully, her sisters allowed her to air her grievances.
One such grievance was that Kardashian doesn't like being shamed for valuing something other than fame:
Like, when I say I'm going on a trip — everything to you guys … the show is more important, work is more important. Maybe traveling isn't a priority to you, but it is to me. You would never take the time to just go do something, because maybe you don't want to leave work. … We all have different priorities and working, it's not my top priority. It's never going to be.
So, basically, Kardashian just wants to be heard and understood, especially since she has different priorities than her sisters. Now that Bendjima is long gone, hopefully Kardashian and her family can restore their relationships.