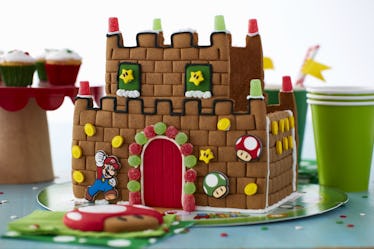 You Can Build Your Own Super Mario Bros. Gingerbread Castle For Your Most Festive Life
With all of the holiday merch and festive goodies on sale, it's sometimes hard to remember that it's still October and we haven't even gotten our Turkey Day feast in, let alone stepped out for the scariest night of the year. In other words, Christmas has officially taken over 2018, so get ready for a deluge of all things merry and bright over the coming months. Case in point: Wilton's Nintendo Super Mario Bros. Gingerbread Castle Kit is back and ready to bless your life with the festive combination of gingerbread, icing, and Mario and the gang.
This holiday-ready bad boy first made its debut last November on Walmart shelves. However, because 2018 is the year of premature Christmas celebrations and all, the Super Mario Bros. Gingerbread Castle Kit returned a little early and is already ready for purchase on Walmart's website.
Per the product description, one gingerbread castle kit contains everything you need to bring the characters of the most nostalgia-inducing video game to life. Inside, building materials await, including pre-baked gingerbread castle pieces, a gingerbread mushroom cookie, three types of candies, and Super Mario and mushroom icing decorations, as well as white ready-to-use icing, red fondant, green fondant, and black icing. Unfortunately, it looks like Princess Peach, Luigi, and Yoshi don't make an appearance in the box, but the castle itself looks all types of epic.
In addition to the tasty supplies, the kit comes with a few pieces to help you display your 2-pound creation once it's finished: a presentation board illustrated with scenes from the video game, a plastic decorating tip set for icing, a cardboard base, and a sheet with instructions if you need some help getting started.
If you're feeling stumped (which is totally understandable, given that the castle is a whopping 2 pounds and you probably want to make Mario's palace the most amazing it can be), Wilton, aka the scientists behind the build-it-yourself gingerbread house, has a few pointers that will make you into an expert gingerbread builder in no time.
Firstly, they recommend that you decorate your gingerbread house panels with all the candy and icing they can hold before you put the house together to prevent any mishaps. No one wants to put together a gingerbread house only to have it break when you try to add some extra detailing to the roof. Speaking of detailing, you should make sure that your icing and any other decorations are completely dry before you attempt to assemble the castle.
Wilton also has a few decorating tips from years in the business of making gingerbread houses. It recommends round candy wafers or square gum pieces for roof shingles and cutting gum drops or gummy candies to make stained glass windows for your gingerbread palace (kept in place with royal icing, of course).
Now that you've got your gingerbread decorating tips on lockdown, it's time to get creative. You can either attempt to replicate Mario's mansion from the image on the box, or do your own thing with a creative palace that would wow Princess Peach and the rest of the crew.