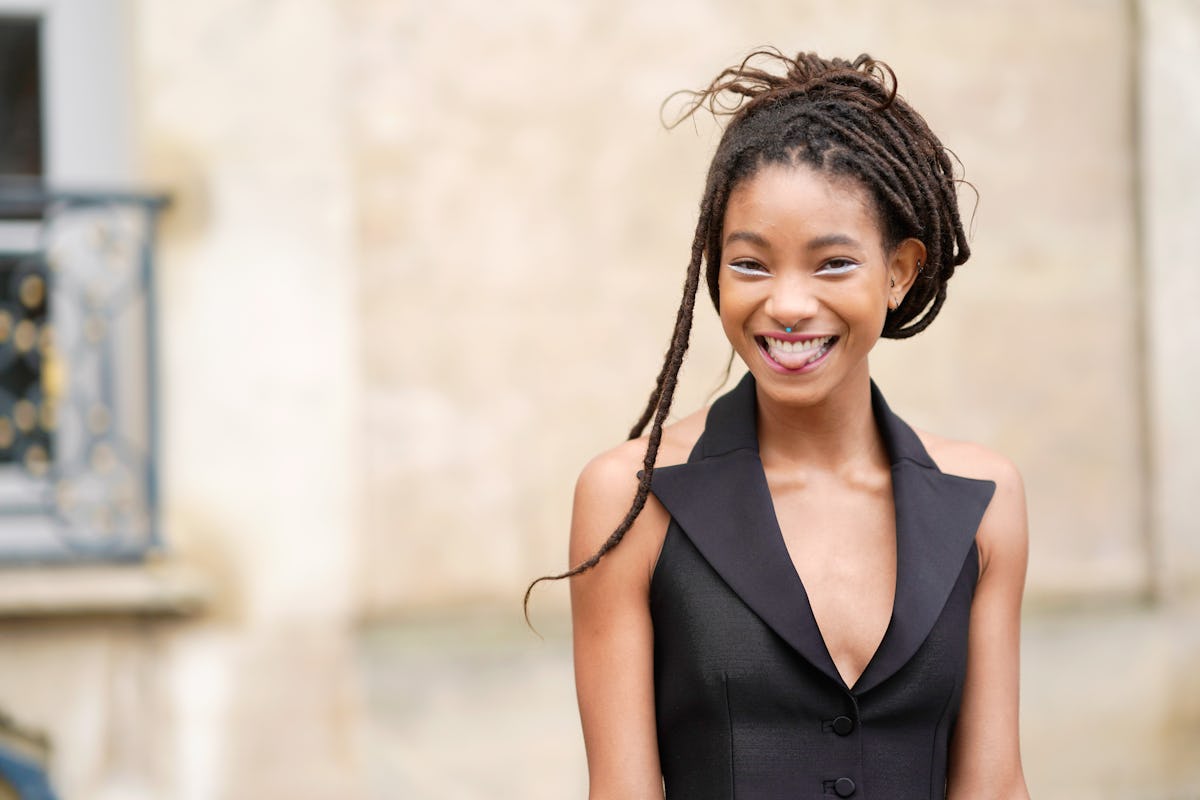 Willow Smith Made White Eyeliner Cool Again, So Be Still My Middle School Heart
Edward Berthelot/Getty Images Entertainment/Getty Images
When Willow Smith (or any of the Smith children, TBH) wears something new and different, then you can bet it will become an immediate trend in the fashion and beauty sphere. After her appearance at a recent Dior fashion show, Willow Smith's white eyeliner proves the graphic color is staged for a comeback, so prepare to embrace your Bambi-eyed beauty.
Along with a beautifully tailored tuxedo gown, Smith wore dramatically graphic white underliner to the Dior Spring/Summer Haute Couture Show on Jan. 22, and proved that white eyeliner will make a statement just as much as a wing or a red lip can. And beyond that, she reminded me that in 7th grade, I wore white liner in a straight, graphic line on my TOP lids, and you probably did, too.
Update your middle school staple for 2018 by placing it underneath your eyes instead of on top. Underliner had sharp edges, giving it that clean, edgy appeal. Smith's liner was thicker directly underneath the iris, and tapered off as it approached the inner and outer corners of her eye. This shape of the eyeliner maximizes her eye shape and makes it look much bigger vertically than it actual is IRL. The liner also continued a bit past the outer corner of the eyes, making the eyes look wider as well. Seriously, if you want your eyes to look bigger, then white eyeliner is your biggest must have. Makeup can create a serious optical illusion when placed properly.
Just like Willow Smith, I, too, wore white eyeliner when I was seventeen. However, I looked nowhere near as polished as she does. My first mistake was not wearing a Dior tuxedo. I'm pretty sure a Dior tuxedo would make anything and everything look much, much better.
My second mistake was the placement of the liner. When I was in high school, I would just apply my white liner pencil into my waterline all willy nilly. Sometimes, leftover black liner from the day before (terrible, I know) would mix with the bright white pencil and create a muddy grey hue reminiscent of the gross New York City winter slush. Not glam. Also, I just simply lined my waterline rather than focusing the product on where I needed it to most. If you just apply white liner aimlessly to your bottom waterline, you may end up looking like the Annabelle doll, right out of a horror movie. However, if you apply it strategically, just like Smith did, you can really play up the shape of your eyes.
If your eyes are shorter or almond shaped, try placing the thickest part of the white eyeliner occurs directly under the iris of the eye. This will make it appear that the eye takes up more space vertically. For close-set eyes (closer to your nose), play around with extending the tail of the white liner past the outer corner of your eye. And if your eyes are wide set (further apart), then you may want to extend the bulk of the white liner toward the inner corner of your eye, which will optically pull the eyes closer together. But honestly, if you feel great about your eyes as is, just place the white liner anywhere you want. One caveat: make sure it's on your own face.
Not all white eyeliners are created equal. Sometimes, the liner isn't pigmented enough and you'll be left with a sad, semi-sheer smear under your eye.
If you're in the market for a liquid liner, then the NYX White Liquid Liner ($7; nyxcosmetics.com) has got you covered. As far as white liquid liners go, it's definitely one of the best. It does tend to flake if you layer it up too much, but it's super saturated in one fell swipe. Plus, it's just $7.
If a pencil is more up your alley, then try out the Marc Jacobs Beauty Fineliner Ultra-Skinny Gel Eye Crayon Eyeliner ($24; sephora.com). The super tiny, super precise tip will make sure you get the product only where you need it. It's also waterproof, so it's sure to stay in your waterline all day long. I personally swear by it.
You don't have to be a Smith kid to be ahead of the trend. With the right product and the right placement, you too can rock white eyeliner, just like you did in middle school. Same, same, but different.