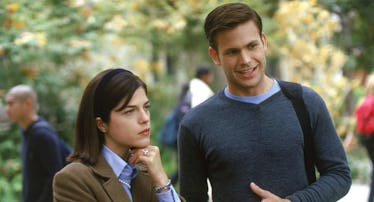 'Legally Blonde' Fans Have A Major Question About The Sequel & Matt Davis Is Giving Us Hope
MGM
Elle Woods is obviously the star of Legally Blonde, proving to viewers that one can achieve anything if they set their mind to a goal, but Elle's life-changing realization stems back to a silly boy rejecting her. She expected a life with her college boyfriend Warner, who dumped her because he didn't think she fit his long-term vision of political aspirations. Thriving in her new life as a lawyer, Elle didn't run into Warner in Legally Blonde 2: Red, White & Blonde, but Matt Davis, the man behind Elle's jerkish ex-boyfriend, thinks Warner is due for a return. Nostalgia and throwbacks to a first movie are always welcomed, so will Warner be in Legally Blonde 3?
Legally Blonde 3 was confirmed earlier this summer as the sequel nabbed a Valentine's Day 2020 release date. So far, only Reese Witherspoon is officially tied to the project, and while only a few of the original stars returned for Legally Blonde 2, it looks like the third film just may attract all of the actors we loved in the original movie. Appearing at Comic-Con to promote The Originals' spinoff Legacies, Davis revealed that he isn't opposed to appearing as Warner in the new movie, telling Us Weekly:
I think anything's possible. I've always told people that without Warner, there's no Elle Woods. Warner compels Elle to go to Harvard. Think about that. Without Warner, there's no Legally Blonde!
He has a valid point. What would have happened to Elle if she just chose to mope after her breakup rather than try to win Warner back and ultimately realize that he isn't worth her attention? Well, we probably wouldn't have moments like the Bend and Snap and Elle winning her court case. Meanwhile, Warner graduated from law school with no honors or girlfriend, and it would be interesting to see if things improved in even the slightest for him after Legally Blonde's finale scene.
Davis also elaborated about where he thinks Warner is today when speaking to Entertainment Weekly at Comic-Con, saying:
I would love to see where the writers think Warner is at this point. I would love to see something where perhaps Warner is married to a politician, to a woman who's running for office, and he's sort of like a kept man. And her opponent is another candidate, and the person running the campaign is Elle Woods. So it's Elle Woods driving this campaign against the wife of Warner.
Obviously, the last time Elle pitted herself against Warner's significant other, she became best friends with his eventual ex-fiancée Vivian Kensington. Would Davis's story idea just mean that Elle and Emmett become couple BFFs with Warner and his wife?
Meanwhile, Regina King, who appeared as congressional staffer Grace Rossiter in Legally Blonde 2, also spoke at Comic-Con about the possibility of returning for Legally Blonde 3. Although she wasn't entirely caught up on the news of another film, King was game for Grace showing up to accompany Elle in court, telling EW:
I freakin' love Reese, and if she asked me to come back, even if it was just for a scene, I would.
Thanks to Witherspoon's reenactment of Elle's Harvard application tape to confirm Legally Blonde 3, we know that she's pumped for a new story, and I hope that this means she's dedicated to calling forth as many old cast members as possible. After more than 15 years, what better reason to bring the gang back together than for more pink power suits and fashionably focused legal advice?
Legally Blonde 3 is in theaters on Feb. 14, 2020.