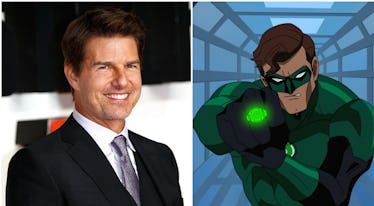 This A-List Actor Is Rumored To Be Cast As The Green Lantern In The DC Extended Universe
John Phillips/Getty Images, Warner Bros.
The DC Extended Universe finally showed all of its heroes in action for the first time in last year's Justice League. Well... almost all of them. Though DC Comics' long-awaited big-screen team-up movie introduced Cyborg, Aquaman, and The Flash to help out Batman, Superman, and Wonder Woman, fans are still waiting for Green Lantern to show up. DC has yet to even officially cast its Green Lantern, but with its upcoming movie Green Lantern Corps now in development, rumors are bubbling up about how might put on the power ring for the DCEU. Will Tom Cruise be the Green Lantern? That's the rumor going around right now.
The rumor goes back to a blind item posted on the celebrity gossip forum Crazy Days and Nights back in March, which stated that a big-name movie star was at that point the frontrunner to play a major superhero role, but was concerned because the script called for the hero to be killed off. Well, the website recently revealed that post was about Tom Cruise and the lead role in DC's upcoming Green Lantern Corps movie. The rumor has a bit more weight to it given the fact that DC is reportedly eyeing Mission Impossible director Christopher McQuarrie as the director for the Green Lantern movie, and McQuarrie is known for frequently collaborating with Cruise.
If this rumor pans out, then Tom Cruise will join Ben Affleck, Gal Gadot, Ezra Miller, Jason Momoa, Ray Fisher, and his recent Mission Impossible: Fallout costar Henry Cavill as a star of the DC Extended Universe. And of course, Cruise would also have a bit of a burden in reviving the Green Lantern character, after movie fans so recently saw Ryan Reynolds play a live-action Hal Jordan in 2011's Green Lantern, which was widely panned.
Tom Cruise has been one of Hollywood's preeminent action movie stars for decades now, but has yet to be in a superhero movie. With superhero films becoming more and more popular over the past few years, many fans have wondered when or if Cruise would ever suit up for a superhero role. Back in 2016, Cruise told Jimmy Kimmel that he was not especially interested in taking on a superhero role, but he changed his tune a few months ago, when he admitted that he would agree to a superhero role if he found one that was interesting to him.
Of course, all of this Tom Cruise talk is still only a rumor at this point. Earlier this week, it was also reported that Justice League producers were heavily considering Mark Wahlberg to play Green Lantern, so Cruise is not the only A-list actor with his name in DC's ear right now. But with Green Lantern Corps currently in development, fans should expect to get the big casting news sometime pretty soon. The movie that will introduce Green Lantern into the DCEU, Green Lantern Corps, will actually star multiple Green Lanterns (Hal Jordan, Guy Gardner, John Stewart, and Kyle Rayner), but the Hal Jordan role is the lead. The movie is currently slated to premiere on July 24, 2020.