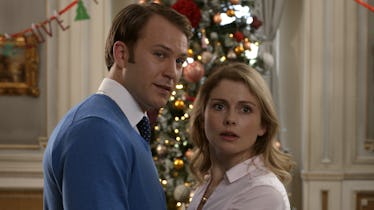 Here's Everything We Know About The Possibility Of A Third 'A Christmas Prince' Movie
Netflix
This post contains spoilers for A Christmas Prince: The Royal Wedding. First comes love, then comes marriage. But will we see a royal baby carriage? Long-awaited sequel A Christmas Prince: The Royal Wedding hit Netflix on Nov. 30, and although Amber and King Richard successfully tied the knot, fans are already dying to know what comes next. Prince Harry and Meghan Markle already have a baby on the way, but it's totally feasible for the royal Aldovian couple to follow in their footsteps as quickly as they did with their wedding. It's still too soon to tell, but will there be a Christmas Prince 3?
As Amber and Richard's Christmas wedding came to an end, the romantic holiday spirit seemed to be contagious among their guests. Queen Helena caught the bridal bouquet, looking toward Amber's assistant Mr. Zabala with a special twinkle in her eye. Newly reformed Cousin Simon had cozied up to Amber's friend Melissa, while her friend Andy sweetly complimented the wedding planner's knack for design. Even Princess Emily and Amber's dad Rudy seemed to have their own happily ever afters, as the latter struck up a friendship with the palace chef and Emily's middle school showmance flourished off stage. It was certainly a holiday to remember, but could we see more Christmas magic in a follow-up film?
While there's no official word from Netflix about a third movie, the production team having a lack of material won't be the case. If we're still in the mood for a holiday wedding next Christmas, screenwriters definitely have their pick of who gets hitched. But now that she's officially Queen of Aldovia, how will royal life suit Amber (Rose McIver)? Thanks to the teaser video first announcing A Christmas Prince: The Royal Wedding, we know that she's a fan of Meghan Markle, so it's only natural to wonder if Amber will hit the ground running in her new job just like her fellow American. Does anyone else want to see a movie about her starting a creative writing program for the kingdom's underprivileged kids?
Of course, just like Prince Harry and Meghan experienced before announcing their own pregnancy, Amber and Richard (Ben Lamb) will inevitably face scrutiny from the press about when their duo will become a trio. A Christmas Prince: The Royal Baby seems like a logical next step, but if that's the case, let's hope that Amber has made her mark on Aldovia before dealing with pregnancy symptoms.
If we can expect to see a third movie, we likely have to wait awhile before Netflix confirms the news. Although A Christmas Prince was an instant hit when it debuted in November 2017, the streaming service didn't officially announce a sequel until the day of Harry and Meghan's May 2018 wedding. Perhaps the company will keep a third movie and a potential Aldovian royal baby under wraps until the real-life couple's child arrives in the spring. That's a baby play date I have to see.
While we have to wait and see if A Christmas Prince 3 is on the way, here's to having a double dose of Aldovian holidays to celebrate Christmas this year. A Christmas Prince: The Royal Wedding is currently streaming on Netflix.