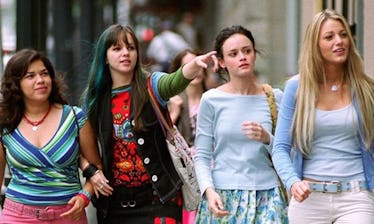 A Third 'Sisterhood Of The Traveling Pants' Movie May Be Coming & I'm Screaming
Warner Bros. Pictures
The future is looking a lot brighter today thanks to Alexis Bledel. The Handmaid's Tale actress just shared some very exciting news for fans of a certain YA franchise about a pair of magical jeans that bond four lifelong friends forever. So, will there be a Sisterhood of the Traveling Pants 3? Lena Kaligaris herself is confirming that there could be another Sisterhood movie on the horizon. Break out your most cherished piece of denim — it's finally time to celebrate.
Bledel appeared on The Tonight Show Thursday, April 26 revealing that she and her fellow sisters have indeed pitched a third film and it could very go from celluloid dream to trilogy reality. "I would love it, it would be the best thing," Alexis remarked of the possibility of another sequel. "We don't get to see each other a lot because everybody's work or family and everything, but when everybody is in town we do, and we just pitched a third movie and I hope it comes together. It would be so great." Cue the squeals from the enthusiastic crowd and Jimmy Fallon, who just happens to be a major Sisterhood fan. There's hope for more sisterly stories yet!
Sisterhood of the Traveling Pants and its subsequent sequel are adaptations of the bestselling book series of the same name by Ann Brashares. The first film, which premiered in 2005, features Gilmore Girls star Alexis Bledel as Lena, a pre-Ugly Betty America Ferrera as Carmen, a then-relatively unknown Blake Lively as Bridget, and General Hospital alum Amber Tamblyn as Tibby.
Sisterhood of the Traveling Pants 2 may have come out a decade ago, but talks of continuing the films have been in the rumor mill for years. The Wrap reported another sequel was in the works back in 2014 using the source material from the novel Sisterhood Everlasting, the fifth and final novel in Brashares' series.
Blake Lively commented on the possibility of returning to the franchise in 2016, noting that she and the girls from the movie — who are in their 20s and 30s these days — "wouldn't be making a movie for 16-year-olds again." Blake explained,
There is a strong chance there might be a third. The four of us are still best friends and to be able to create something together again has always been a dream of ours. But it would have to be something that really made sense. If you wait this long to do a third movie, it needs to honor the story and the legacy.
Blake provided an update on the film at CinemaCon this week in an interview with ET. "I think it could really happen and I think the people who love the movie want to see it. I mean, fans have gotten bigger movies made. Deadpool is all thanks to the fans..." Blake remarked, shouting out her hubby Ryan Reynold's own hit franchise.
"It's an idea and a conversation," America Ferrera told E! last March. "I think it would be amazing. The sisterhood is still well and alive. I love my girls. We're very much a part of each other's lives and if the movie happens it would be a great thing."
If you've been following the women of Sisterhood off screen, you're probably aware that they're just as close in real life as they are in the movies. Amber, America, Blake, and Alexis have remained besties ever since they became costars, supporting each other through everything from motherhood to marriage to activism to entertainment projects and beyond. A scroll through their respective social media accounts shows just how much these sisters still mean to one another.
May the Sisterhood of the Traveling Pants live on! The world is ready for the next cinematic chapter.