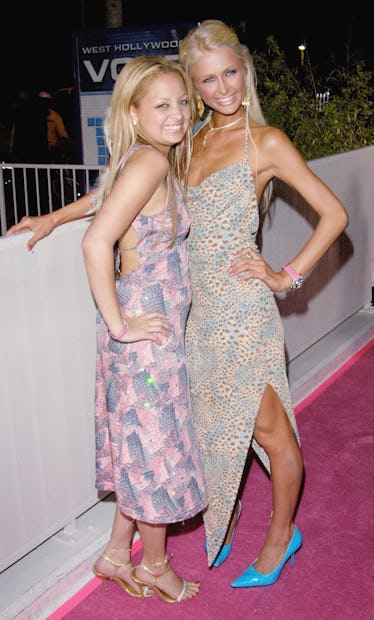 Paris Hilton Tweeted About A 'Simple Life' Reboot & It's Exactly What The World Needs
Dan Steinberg/Getty Images Entertainment/Getty Images
The year 2003 blessed the world with pop culture hallmarks like Outkast's ubiquitous single "Hey Ya!," the launch of iTunes, Harry Potter and the Order of the Phoenix's release... and a little reality show that could. The buzzed-about former Fox series was ironically titled The Simple Life, and featured two LA socialites — Paris Hilton and Nicole Richie — as they braved the wild unknown of the working class life. Paris and Nicole quickly became household names and TV personality extraordinaires. Now fans are wondering, will there be a Simple Life reunion in our future? Leave it to Paris Hilton to give us hope.
The Simple Life aired on Fox for two seasons between 2003 and 2005 before being canceled, subsequently moving to E! only to end in 2007. Nicole Richie and Paris Hilton were public #BFFGoals before #BffGoals was a thing and while they've had what appears to be a rocky past, their friendship seems all good these days. The ladies recently reunited at The Daily Front Row Fashion Awards on Sunday, April 8. Of course, any time Paris and Nicole are spotted together, longtime champions of the duo get nostalgic for, well... simpler times. Paris took to Twitter the following day to ask her followers if they would be down more Simple Life shenanigans. "Should #TheSimpleLife return?," the heiress inquired. Survey says? That's hot.
Paris and Nicole skyrocketed to fame following the show's success in the mid-2000s, so it's hard to deny that the the novelty of their semi-inconspicuous status from the first season has worn off a bit. But just because they're recognizable stars with nearly 20 years of celebrity under their belts doesn't mean they couldn't pull off a fresh batch of hilarious adventures. Case in point: the gang from Jersey Shore are reality vets who just got their own reunion series and if they can make it work 10 years later, why couldn't Paris and Nicole?
You may recall memorable moments from the early Simple Life era — like the time Hilton wasn't familiar with what Walmart was, positing, "do they sell wall stuff?" Paris is now 37 and Nicole is 36 and they've come a long way since their days wreaking havoc on the farm and tarnishing Sonic signs. Both of them are moguls in their own right. Paris has over a dozen mega-profitable product lines, is a coveted DJ, and continues to grow her global influence. "I've grown so much as a person and a woman since The Simple Life," Paris told People in 2016. "I've been through a lot, but I've worked really hard, and I've built my empire. I run my company with 17 different product lines. I'm going nonstop, constantly traveling."
And the business-savvy Nicole hasn't slowed down when it comes to her career either. Richie has two lucrative fashion lines, House of Harlow 1960 and Winter Kate, as well as a collection at QVC. She's continued to show off the deadpan wit America grew to love on Simple Life through her reality series Candidly Nicole and a starring role on the NBC sitcom, Great News.
Paris and Nicole are clearly occupied by running their empires, but with all the beloved TV shows getting new life, some sort of Simple Life reunion would be a real treat for the wistful watchers of the early-aughts.
"As far as I'm concerned, The Simple Life was the best reality TV show going, and it turned 10 years old recently. It's timeless, iconic and you can still watch it," Paris declared back in 2013. "They wanted us to do a 10-year reunion show recently, but Nicole and I were both too busy."
Here's hoping for 15 years? Or even 20? Give the people what they want!