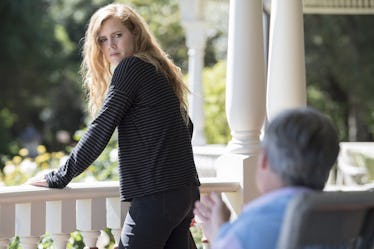 Here's Everything Fans Should Know About Amy Adams' Limited Series 'Sharp Objects'
Anne Marie Fox/HBO
Amy Adams finally returns to TV when HBO's Sharp Objects premieres on July 8, but this limited series already has such a magical formula — Adams! A Gillian Flynn story! Southern Gothic vibes! — that it could totally pull a Big Little Lies and eventually produce a second season. We have to wait and see if Sharp Objects inspires the same cultural impact that last year's Big Little Lies did, but in this age of peak TV, there's always more room for quality stories. Although Adams probably has a thriving Hollywood movie career to return to now, will there be a Sharp Objects Season 2? Author Gillian Flynn has spoken out about the possibility.
Although she's best known for the success of her book Gone Girl and its highly acclaimed film adaptation, Flynn's first published novel was Sharp Objects, and the 2005 story hitting the silver screen marks the last of her bestselling books to receive an adaptation. Sharp Objects follows Adams' Camille Preaker as she returns to her hometown of Wind Gap, Missouri, to help investigate a series of murders. Camille's difficult relationship with her mother (Patricia Clarkson) and coping with the long-ago loss of her sister come to plague her visit.
Although the Sharp Objects miniseries ends with its main conflict solved, Flynn and series director Jean-Marc Vallee, who also directed the first season of Big Little Lies, aren't entirely opposed to revisiting the characters for another season. Flynn told Entertainment Tonight:
My characters are are always going in my head and Camille had a rich, full life for 12 years, so Wind Gap is its own little microcosm, its own working city. I mean, never say never. I know what everybody [would be] doing.
Seeing as he never intended for Big Little Lies to continue, Vallee is the king of "never say never." Although he clarified that his work schedule wouldn't permit him to return for another season, he shared similar thoughts with ET, saying:
I said there will never be a Big Little Lies 2 and look! I think there will be some room. This one [mystery] is solved and we know the end of season one — well, the end of this limited TV series... the past showed me that I should never say never.
Although she previously starred on TV as Jim's girlfriend in the early years of The Office, Adams made her mark as an actress in films, but Flynn had no doubts about Adams' ability to capture the character's essence, saying:
She is, to me, the perfect Camille. To me, Camille is the epitome of grit. Grit is the highest compliment, and Amy has grit. She does what she says and does what she is going to do. I can depend on her, and she has this inner strength and toughness — and that's what Camille is.
For those of us who were first introduced to Adams as a sunny Disney princess in Enchanted, the darker, complex role is quite a step away from her usual roles. While Adams revealed that Camille's standard uniform of oversized sweaters and no makeup felt like how she'd look in her own life, embracing Camille the antihero was just a continuation of welcoming more complicated, non-traditional women's roles to TV shows. Adams, who also executive produced the series, told ET:
It was such a different character than I played before. Also, the team of women working [on it], it was very exciting to me; it was something that was very compelling. I love Gillian Flynn. They keep writing these amazing roles for women on television — the complicated antihero, not the person who is normally celebrated or the women we pay attention to.
Preach, girl! If this is the legacy Big Little Lies leaves outside of its own storyline, I definitely can't complain. We can always use more twisted women's roles on TV, because no one is entirely good or evil, right?
Sharp Objects premieres on Sunday, July 8, at 9 p.m. ET on HBO.