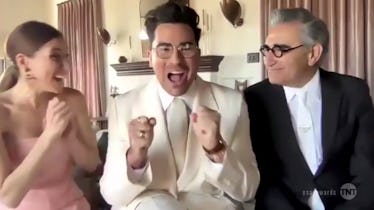 Sarah Levy's Hint About A 'Schitt's Creek' Movie Has Me Freaking Out
SAGAwards2021/Getty Images Entertainment/Getty Images
Schitt's Creek is the ultimate success story in television. The show ran for six seasons but was overlooked by the public until it was almost over. Most fans have come to the show after the finale aired, creating a space for a demand that cannot be filled by another season. But viewers have not given up hope there could be more to the Rose family's story and that perhaps a movie capper could be on the way. But will there be a Schitt's Creek movie? Luckily, Dan Levy is kinda-sorta-maybe considering it, and his sister, Sarah Levy, is here for it.
Schitt's Creek is the story of video store magnate Johnny Rose (Eugene Levy) and his former soap opera star wife, Moira (Catherine O'Hara), who fall on hard times when their financial manager defrauds them. They and their two spoiled adult children, David and Alexis (Dan Levy and Annie Murphy), had to rebuild their lives in the only thing they have left: A tiny town called Schitt's Creek, which Johnny bought offhandedly as a joke.
Like all projects the elder Levy and O'Hara have partnered on, Schitt's Creek is an oddly feel-good comedy. Dan Levy (Eugene's son) is not only a co-star but the main creative force behind it along with his father, while his sister, Sarah, played café owner Twyla, making this a family labor of love.
But with the show now over, fans are curious if there could be more Schitt's Creek in the form of a movie. It wouldn't be the first; Downton Abbey recently followed the "Six Seasons and a Movie" tradition to box office success. Both Breaking Bad and Deadwood also released films in 2019.
Dan Levy wasn't so sure about it back in September of 2020 when speaking to TVLine, post-Emmy wins. "This is the best way we could have ever ended the show," he said at the time. "So if there is an idea that ever pops into my head worthy of these wonderful people, it'd have to be really frickin' good... So, fingers crossed that we get a really good idea coming into our heads at some point. But I would love to work with these beautiful people again."
But in a more recent interview post-SAG Awards, Sarah hinted that people might be coming around to the idea. Speaking during the Screen Actors Guild Awards pre-show, she enthused, "I keep hearing about a movie!" She wouldn't confirm or deny if one was in the works, insisting, "This remains to be seen, but I'm here for it if that's the case."
So, fans aren't entirely without hope of a follow-up film. Perhaps in a few years, the Rose family will be prepared to return to the screen.
All six seasons of Schitt's Creek's are currently streaming on Netflix.