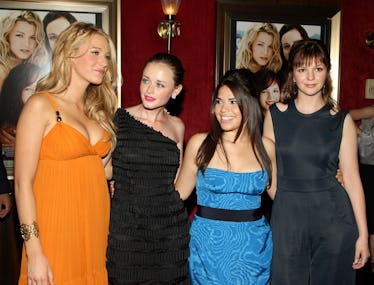 'Sisterhood Of The Traveling Pants' Cast Hint At A Secret Project
Stephen Lovekin/Getty Images Entertainment/Getty Images
If you desperately miss the magic, wonder, and pure girl power that was the Sisterhood of the Traveling Pants, boy, do I have some news for you. During an interview with Refinery29, Amber Tamblyn (aka Tibby), revealed that there might, might be another Sisterhood of the Traveling Pants movie in the works. So, yes, that means it is officially appropriate for you to reignite your crush on Bridget's cool soccer coach.
Tamblyn opened up about the chances of a possible third movie — and the odds are definitely in our favor. She said,
It's a very good possibility. I can't say anything else other than we've been working on something for a while, and there's hope. Our business is weird, and making films is hard, and I'm very hopeful for it.
Couple that with the fact that Alexis Bledel, America Ferrera, and Blake Lively have all hinted at a possible upcoming film, and things are looking very, very good.
During a talk show appearence on The Tonight Show With Jimy Fallon in December, Bledel said that "something is definitely in the works."
"I think it would be so much fun," she added. "We talk about it. I think we should absolutely do it. We're working on it, so we'll see if it happens."
Lively told PEOPLE Magazine in June that she's definitely interested in going back to the Sisterhood world. She said,
There's a strong chance there might be a third. The four of us are still best friends. To be able to create something together again has always been a dream of ours.
She added: "But it would have to be something that really made sense. If you wait this long to do a third movie, it needs to honor the story and the legacy."
Ferrera sounded equally enthusiastic about the idea, telling E! News that a third movie is "an idea and a conversation" She said,
I think it would be amazing. The sisterhood is still well and alive. I love my girls. We're very much a part of each other's lives and if the movie happens it would be a great thing.
Ughhh all the ~feelings.~ I am now immediately ready to climb a ladder to an old excersize studio and eat all the junk food.
Third movie or not, we all get to live out the magic of the Sisterhood of the Traveling Pants through the real-life friendship of the four actresses.
They video chat with eachother on New Years Eve.
They hang out on the regs.
They are GOOFY.
They support eachother's creative endeavors.
Ughhhh beautiful. Pants = love.
Also, if you need any additional proof that these gals are the real deal — all three were in attendence at Lively's wedding to Ryan Reynolds, and Tamblyn's wedding to David Cross.
Oh, and Lively, Bledel, and Ferrara even planned Tamblyn's bachelorette party.
"She blindfolded me and I felt all of these hands pulling me out of the car," Tamblyn told Entertainment Weekly. "I'm like, 'OK, I'm going to be beheaded...' And it was America and Alexis. They had all surprised me and put this whole trip together to New Orleans."
Tamblyn and Ferrara also double date, though its mostly just a love fest between the two of them. Tamblyn told Us Magazine,
Usually America and I go out first, eating and catching up and talking about extensionalism and philosophy, and where we are in our lives. And that usually lasts about 2 hours. And then the dudes join up and we talk about sports for 10 minutes. And then America and I go back to being in love with each other. They go off and do their own thing.
Moral of the story? Love your pals. Love yourself. Love the pants. Oh, and please let there be a third movie.