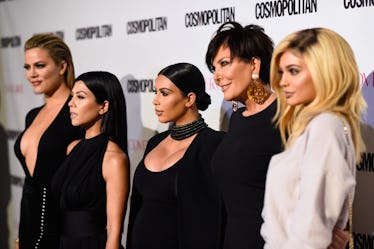 Kim K Just Hinted There May Not Be A Kardashian Christmas Card This Year For A Sad Reason
Frazer Harrison/Getty Images Entertainment/Getty Images
The Kardashians are almost as famous for their yearly Christmas card as they are for their reality show. But with all the drama surrounding the 2017 Christmas card as shown on the latest season of Keeping Up with the Kardashians, the 2018 card may be up in the air. So, will there be a 2018 Kardashian Christmas card? Maybe not, if Kim Kardashian has anything to say about it.
In a recent tweet, Kardashian insinuated that a family Christmas card might not happen this year. After a fan suggested that the drama of last year's Christmas photo shoot might keep the family from doing one this year, Kardashian chimed in and basically agreed.
"I feel like with the drama that happened last year, we may not get a Kardashian Christmas card this year 😫😂," the fan tweeted. "Ill be cool with a West family one tho!"
Kardashian quoted the tweet and said, "Wow reading my mind."
The drama in question here is, of course, all the wild stuff that went down in the season premiere of Keeping Up with the Kardashians. During the episode, which aired back in August 2018, Kim and her sister Kourtney got into a huge argument about how to schedule their annual Christmas card photo shoot. While Kim was trying to wrangle everybody for the shoot around her schedule, Kourtney explained that the shoot had to work around her schedule too because she also had plans, which Kim did not like. And the whole thing just kind of blew up in their faces. The two sisters were yelling and tossing insults left and right. And Kim herself delivered one of the most meme-able insults of all time.
"Maybe if you had a business that you were passionate about then you would know what it takes to run a f*cking business, but you don't," Kim said during the explosive argument. "So don't even act like you know what I'm talking about."
You can watch the argument down below:
The argument set the tone for the entire season which has been difficult for the family to relive during its airing. The argument also forced the sisters to confront some deep issues they've had for quite some time.
"You guys just have really different values than me," Kourtney said later on during a phone call. "I choose to be a mother to my three kids. I'm not here looking for another job. I already work enough, more than I would like to."
Later during the season, Kim, Kourtney, and even Khloé decided to hash things out in family therapy, which prompted Kourtney to get really honest about how she feels. Here's what she said:
I'm here to do this group therapy with my sisters, which I didn't think that we needed. But I think that because we just don't communicate that well, maybe having somebody else guide the conversation could be very helpful … I think generally we just need to learn how to communicate together. And I'm the one who invented 'mean fighting,' just saying the meanest things possible, but I'm just not wanting to fight like that anymore. I don't want to be mean and I don't want to spend my time around people that are mean and putting me down.
So, there's a lot that went down simply because the family wanted to do a Christmas photo shoot. I guess it's not surprising that the Kardashians might take a break from a holiday photo shoot this year. All these wounds need time to heal!