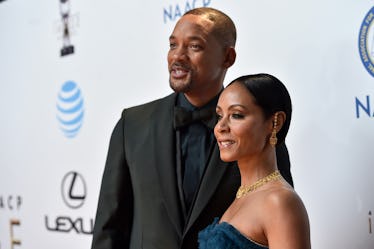 Will Smith & Jada Pinkett Smith Don't Call Themselves "Married," & TBH, I'm Here For It
Alberto E. Rodriguez/Getty Images Entertainment/Getty Images
Rumors have been swirling for months that Will Smith and Jada Pinkett Smith are divorcing, but the former Fresh Prince star is finally here to set the record straight. According to Will, the longtime couple is definitely not divorcing, but at the same time, he insists that the labels "husband" and "wife" are meaningless to them. In fact, Will Smith and Jada Pinkett Smith don't call themselves "married" at all, and after listening to the reasoning behind their unconventional decision, I'm totally here for it.
In a recent interview on TIDAL's Rap Radar podcast, Will addressed the rumors that he and Jada, his wife of 20 years, are divorcing, and he did not mince words. Will explained that his relationship with his wife is so strong that they've moved beyond "husband" and "wife" to an even more important label:
We don't even say we're married anymore. We refer to ourselves as "life partners," where you get into that space where you realize you are literally with somebody for the rest of your life.
Will's explanation may sound a little weird, but honestly, I think it's sweet. Although I've never been married for 20 years (more like zero years), I have to imagine that after all that time, your relationship starts to look different — especially after raising children. Sure, it's a little kooky for Will to say that he's not "married," but at least the term "life partners" acknowledges the reality of where their relationship is in 2018.
And as for those pesky divorce rumors? Will insisted that, despite the media circus, absolutely nothing can destroy his relationship with Jada:
There's no deal breakers. There's nothing she could do — ever — nothing that would break our relationship. She has my support till death, and it feels so good to get to that space.
This is some grade-A cuteness right here. Don't we all want someone to talk about us like that?
Will's TIDAL interview isn't the first time he's shut down divorce rumors. In May, the actor released a new song — his first in 13 years — called "To The Clique" in which he urges the media to leave his relationship alone. "Twenty years of swag y'all just witnessed / Stop the divorce rumors and mind your damn business," he raps in the song dedicated to his family "clique."
Things seem great between the "life partners" right now, but that hasn't always been the case. In fact, Will and Jada's now-perfect romance started off on rocky footing: When the two started dating, Will was still married to his first wife Sheree Zampino. I'm sure that was a fun first date convo.
In a recent interview with Access, Jada and her mom Adrienne Banfield-Jones discussed the early days of the Smiths' relationship, and not everyone (cough, Jada's mom, cough) was super happy about how things started. "I think initially when Will first called you, I think he was still married or he was just separated, or something," said Banfield-Jones. She continued, "And I said, 'He's not available to you.'"
Jada laughed it off, saying, "He was div-. The -orced hadn't happened yet."
Despite Jada ignoring her mother's advice, everything seems to have turned out OK, and Jada and Zampino have actually become good friends in the years since she met Will. "I do believe that my relationship with Sheree has been one of the fundamental relationships in my life," Jada told Access. Will has a son, Trey, with Zampino, and Jada explained that co-parenting him with Zampino completely changed her life. She told Access:
At that particular time, before [having a blended family] was popular, before it was even an idea, we were trying to create something that we had never experienced.
At this point, I'm basically counting down the days until Will and Jada co-write a book about relationships. Give the people what they want, Smiths!