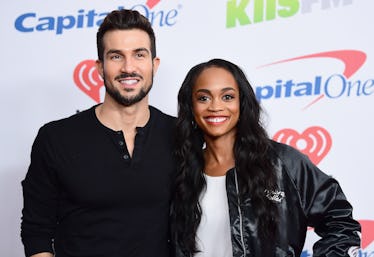 Rachel & Bryan Are Open To A TV Wedding, So 'Bachelorette' Fans Should Start Mentally Prepping
Emma McIntyre/Getty Images Entertainment/Getty Images
We only have a few more weeks until we finally learn who current Bachelorette Becca Kufrin hopes to walk down the aisle toward, but one of our past leading ladies is solidifying her wedding plans right now. Season 13 Bachelorette Rachel Lindsay has spoken about her big day with fiancé Bryan Abasolo, and with her eyes on a spring 2019 wedding, the next Bachelor Nation marriage could happen before we know it. Of course, it's not a true Bachelorette wedding without ABC cameras present, so will Rachel Lindsay have a TV wedding? She and Bryan are open to the idea.
Although Rachel has previously been vocal about getting married ASAP, life understandably got in the way, and her old plans for a wedding this December have been altered at this point. Now, when speaking to Entertainment Tonight, Rachel seems to have locked down her wedding date, saying:
I wanted it in December, but as it's getting closer and plans haven't been put in place, it's looking more next year, the spring, because I want to have kids. I really want to start next year. I want more stability. We've been traveling so much and I want to create this family unit and a home for us. We've been having a great time, traveling, we live together, so we've already done the things, 'Oh, I'll wait two years once I get married' — we're already doing that. So, it's like, why wait?! Let's have kids!
In my opinion, the world could always use more Bachelor Nation babies.
Although having a televised wedding isn't solely the couple's decision, Rachel also divulged that she's talking to Bachelor producers about the possibility and that she and Bryan are up for the opportunity, saying:
We're not opposed to a TV wedding! Just because we fell in love on TV, we met on TV — it completes the circle. I feel like a lot of people are invested in our love story and they want to see it come full circle. So, I'm all about a TV wedding, it's really about timing. Will the network give it to us? Will everything work together? The perfect storm has to come together for a wedding.
Recent Bachelor couple Arie Luyendyk Jr. and Lauren Burnham haven't been shy about plans for their (private) January 2019 wedding, but it's been quite awhile since viewers were treated to a non-Bachelor in Paradise marriage between franchise alums. Season 7 Bachelorette Ashley Hebert married JP Rosenbaum in a December 2012 TV special, while Sean Lowe, the only Bachelor to marry the woman he proposed to at the Final Rose stage, tied the knot with Catherine Giudici in a 2014 televised wedding. Although Season 9 Bachelorette Desiree Hartsock married her Final Rose pick Chris Siegfried in 2015, the couple didn't have a TV wedding. In other words, we're long overdue for a Bachelor Nation celebration!
One of three previous Bachelorettes still engaged to the recipient of her Final Rose, Rachel was the oldest woman to take on the special role, and while she jokes about herself and 38-year-old Bryan being the "older" couple of Bachelor Nation, the wisdom that comes with age seems to have benefitted their relationship in the long run. On the subject of stepping away from the spotlight, Rachel told ET:
I think you have to take a step back [from The Bachelorette] — a lot of people asked me, 'Are you going to do Dancing With the Stars?' — for me that wasn't even a question because I wanted to build a foundation away from cameras, just the two of us... We traveled together, spent time visiting each other's families — did real-life couple things, things you do in the real world!
We may have to wait a little longer until Rachel and Bryan reveal definite wedding plans, but it sounds like they're well on their way to a trip down the altar. Here's hoping that the other engaged Bachelorette couples follow suit soon!
The Bachelorette returns on Monday, July 23, at 8 p.m. ET on ABC.