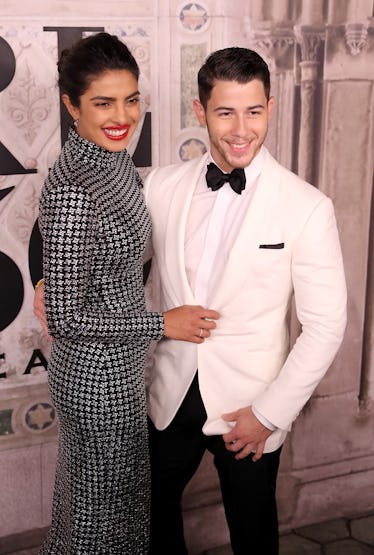 Priyanka Chopra Just Added Jonas To Her Name On Instagram, So She & Nick Are The Real Deal
Rob Kim/Getty Images Entertainment/Getty Images
I don't know why I keep being surprised and delighted every time there's a new Nick Jonas and Priyanka Chopra relationship advancement. I mean, the two are head-over-heels and wildly in love. Still, fans were wondering — will Priyanka Chopra change her last name to Jonas now that they're married? Based on her new Instagram name, yes, baby! It's so exciting! Congratulations, again, you guys!
I'm still personally reveling in all of the amazing photos and videos from the big day. And by "day," I mean week. Heck, I might even mean past five months. During the first weekend in December 2018, Jonas and Chopra embarked on nothing less than a wedding adventure of indescribable magnitude. On Saturday, Dec 1., the two celebrated with a Christian wedding at Umaid Bhawan Palace. In fact, Jonas' dad, Paul Kevin Jonas Sr., officiated the whole shebang. The following day, they held a Hindu ceremony at the palace, too. On Monday, they must have rested or something because by Tuesday they were back at it with a massive reception in Delhi.
All of this was preceded by a Mehendi ceremony where both Jonas and Chopra were given elaborate henna tattoos on their hands and feet, and a Sangeet, aka, a traditional musical event where both families come together to dance and party. You'd think by the end of it all they would be totally exhausted, but Chopra had enough energy to complete one last outstanding wedding task — changing her name on Instagram.
Based on Chopra's Instagram profile, she opted to keep Chopra and tack Jonas on to the end. Honestly, it sounds beautiful when you say it out loud.
Priyanka Chopra Jonas.
Something about the syllables, I guess.
Based on both Jonas and Chopra's commentary about their wedding, they enjoyed living it as much as fans have enjoyed watching it from afar. Both celebs shared the same caption to accompany various celebration photos on Instagram which stated, "One of the most special things our relationship has given us is a merging of families who love and respect each other's faiths and cultures. And so planning our wedding with an amalgamation of both was so so amazing."
Chopra and Jonas spoke with People magazine at length about the festivities where they both described their emotional journey to marriage. "It was all tears. All tears," Chopra said. "I could not hold it in. I think I was nervous and scared. But as soon as the curtains opened, and I saw his face it was just like everything settled and I knew I was making the best decision of my life."
Jonas added, "The emotions were running high during the ceremonies, I think especially during the Western wedding for me. You know you think your whole life about that moment. Honestly, I could not have imagined it would be as perfect as it was. It was highly emotional."
Well, now I'm highly emotional over Chopra's new Instagram name. She has yet to update it on Twitter and Facebook, but you know what they say... Instagram official is the new Facebook official.