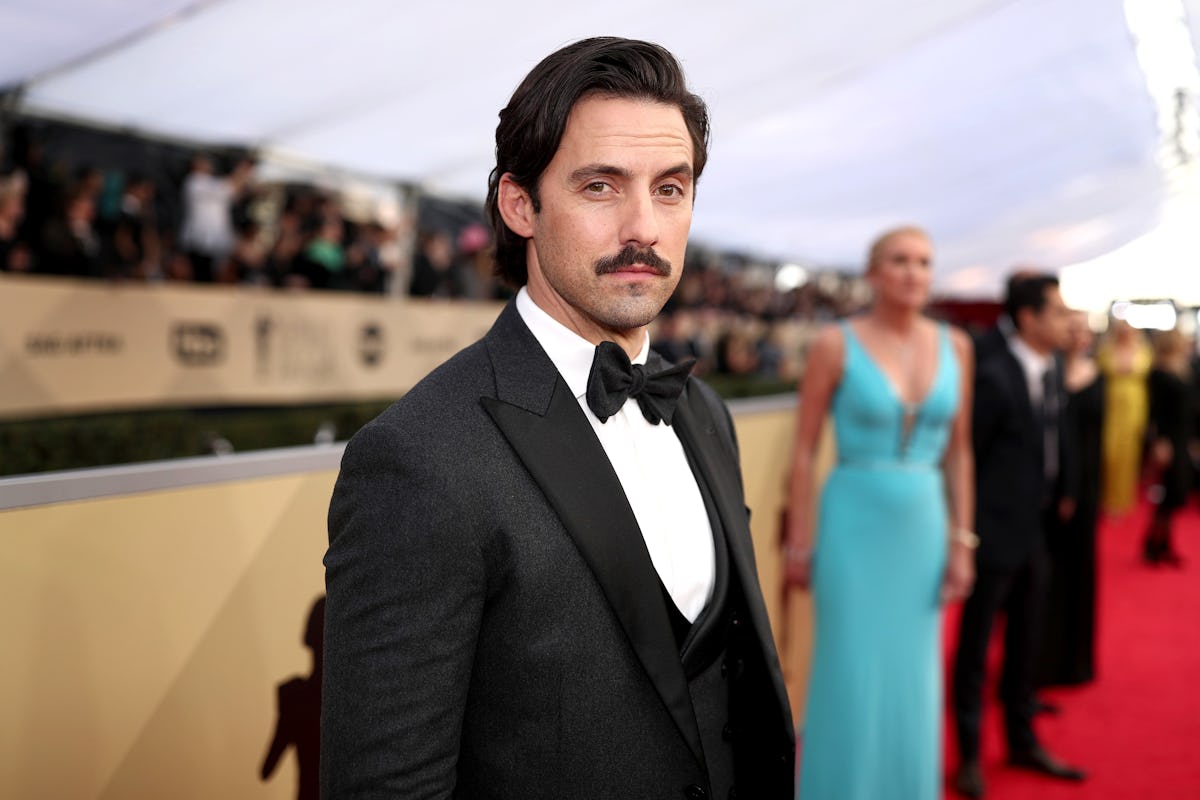 Milo Ventimiglia May Be Starring In A New Movie & It's Just As Emotional As 'This Is Us'
Christopher Polk/Getty Images Entertainment/Getty Images
Milo Ventimiglia has been one of those actors who's been around forever and yet never seems to get leading recognition. He was in Gilmore Girls and in Heroes, but it wasn't until This is Us that he became a household name and a leading man. Now he's moving on up in a bid for A-List cred to be the marquee name in a new film and play the romantic lead. But will he land the part? Will Milo Ventimiglia star in The Art Of Racing In The Rain? And is that a title you should have heard of before now?
The answer the first question is still up in the air. The Hollywood Reporter revealed on Wednesday, Feb. 7 the actor is in talks for the lead role, which once had Patrick Dempsey attached to star in the adaptation of Garth Stein's bestseller.
According to their report:
Simon Curtis, the helmer of last year's drama Goodbye Christopher Robin, has been tapped to direct the adaptation of the best-selling novel by Garth Stein, which was picked up last year. Neal Moritz is producing the feature project along with Tania Landau and Patrick Dempsey, who at one point was attached to star in it.
So, what's the film about? Should we worry about crock-pot created disasters all over again?
If there's any connection, it's via the Pearson's pup, Louie. The Art of Racing in the Rain is a novel told from a dog's point of view.
Here's the synopsis:
The novel follows the story of Denny Swift, a race car driver and customer representative in a Seattle BMW dealership, and his dog Enzo, who believes in the Mongolian legend that a dog who is prepared will be reincarnated in his next life as a human. Enzo spends most of his days watching and learning from television, gleaning what he can about his owner's greatest passion, race car driving — and relating it to life. Enzo eventually plays a key role in Denny's child-custody battle with his in-laws when his wife Eve dies of brain cancer and distills his observations of the human condition in the mantra 'that which you manifest is before you.' Enzo helps Denny throughout his life, through his ups and downs.
As one can imagine, the old Hollywood adage, "Never work with kids or dogs," has made this a project that's bounced around Hollywood for a while. According to The Hollywood Reporter, the novel, which came out in 2008, was originally optioned right away in 2009, and Dempsey, who was peaking in Grey's Anatomy, signed on to star.
Then the movie stalled out, Dempsey stepped aside, directors came and went. Disney picked the right up recently, thinking to make a romantic family-friendly car racing film in the wake of The Fast and The Furious franchise's popularity, but that didn't go anywhere either. Now the project has landed at FOX 2000 and is looking to cast the man who has shown us he is fearless about working with kids, as well as dogs.
For those worried that heading to the big screen means Ventimiglia might be exiting This Is Us now that Jack's funeral has passed, fear not. The show is not done with him, not by a long shot.
I was never going to leave the show. A while back, Fogelman explained [the show] ... as a box of unmarked home movies and each week we're going to reach in and grab one and just tell that story. This was just one of those tapes, one of those moments where we are understanding a moment in this Pearson family, the loss of their father. That was just the story of the week that we were telling. There's still a lot more to go, and that means yes, I'm still around.
This Is Us returns to finish out the second season on NBC after the Olympics are over on Tuesday, Feb. 27, 2018.