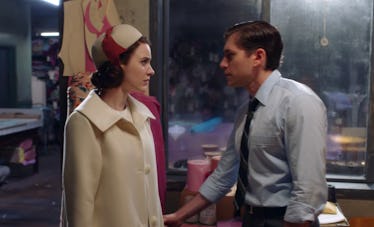 Will Midge & Joel Get Back Together? His Comedy Club Could Be A 'Marvelous Mrs. Maisel' Game-Changer
Amazon
Midge Maisel's relationship with her separated husband Joel has been up in the air ever since the series premiered, and the newly released second season of The Marvelous Mrs. Maisel is no different when it comes to the two on-again, off-again lovers. At the very end of the new season, though, things start to look a little hopeful for Midge and Joel, and viewers might find themselves wondering will Midge and Joel get back together in The Marvelous Mrs. Maisel Season 3? It is kind of a tricky question, so let's get into it.
Spoiler alert: This post includes spoilers from the Season 2 finale of The Marvelous Mrs. Maisel. As fans will recall, the first season of Mrs. Maisel ended with the possibility of Midge and Joel getting back together after they reunited at their son's birthday party, but that all changed once Joel saw Midge on stage at the Gaslight. In the Season 2 premiere, Joel revealed that he could not get back together with Midge because he was not comfortable with her broadcasting his life in her stand-up act. To Joel's credit, he recognized Midge's talent and told her she should not give up on stand-up, but unfortunately following her dream meant that Joel would have to remain on the sidelines.
This came a blow to Midge, who seemed hopeful that she and Joel could work something out. Instead, Midge forged ahead in her stand-up career, but her mother Rose remained most concerned about finding her a new husband. During their family trip to the Catskills, Rose pushed Midge to go on a date with her friend's son, a doctor named Benjamin.
Although Midge and Benjamin have a rough start, they actually grow to really enjoy each other thanks to an emergency car ride back to New York City that forces them to spend more time together. Midge even reveals her secret double life as a stand-up comic to Ben after their first real date.
Throughout the rest of Season 2, Midge and Benjamin grow closer, and we begin to see Joel grow more and more jealous. In the finale, Benjamin asks Abe for his blessing to propose to Midge. However, as Abe is still mulling over the decision, the popular singer Shy Baldwin offers Midge the opening spot on his upcoming six-month tour and she jumps at the chance right away. She only later realizes that taking that gig will likely bring an end to her relationship with Benjamin.
At the very end of the season, Midge sadly accepts that she will always put her career first, and that will mean she ends up alone. But before she sets off on her tour, she tells Joel that she wants to be with someone who loves her for just one night, and the two embrace in a kiss.
So... are they back going to get together or not? Midge sounded pretty sure of herself when she said she was destined to end up alone, and she did make it clear that her coming to Joel was only a one-night thing, but there is still hope. Earlier in the finale, a newly rich and jobless Joel decided to follow through on a new dream of his: opening his own club. If Joel does open a comedy club in Season 3, it would bring him even closer to Midge, putting him not only in her personal life but also her all-important professional life. There is hope for these two yet.