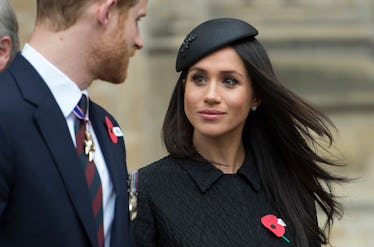 Here's Why You Won't See Prince Harry & Meghan Markle With Trump On Official Business
WPA Pool/Getty Images Entertainment/Getty Images
Meghan Markle has never seemed to shy away from politics: She was a vocal Hillary Clinton supporter during the 2016 election, she called President Donald Trump "misogynistic" and she openly criticized Brexit. So you'd be forgiven for thinking that marrying into an influential royal family is perfect for her. But if you're wondering if Meghan Markle will have a diplomatic role with the royal family, well, don't count on it too much.
I hate to burst your bubble, but if you've been looking forward to Ambassador Markle, it's not going to happen. As a member of the royal family, Markle won't be allowed to express any of her political views. In fact, all members of the royal family are prohibited from sharing political thoughts or from running for office, according to Harper's Bazaar. This is in order to maintain an appearance of neutrality in the political arena, making the royal family accessible and representative of all members of society, according to Redbook. In fact, members of the royal family reportedly don't even vote, though they're allowed to.
It's probably for the best, because if Markle and Trump crossed political swords, you would be sure to see some fireworks. Not only did she support Clinton during the 2016 presidential election, but she's also spoken out against Trump specifically. In a 2016 interview on The Nightly Show with Larry Wilmore, she called him "divisive" and "misogynistic."
"You're not just voting for a woman, if it's Hillary, just because she's a woman, but certainly because Trump has made it easy to see that you don't really want that kind of world," she said.
Yeah, it probably wouldn't go well.
It's kind of a shame, though, considering Markle has always been politically active. Even as a kid, she organized protests against the Gulf War at age 10, using anti-war signs to picket outside of her school, according to the biography Meghan: A Hollywood Princess. She also took on decades of sexism at age 11, when she wrote letters criticizing a sexist soap ad to the company, Proctor & Gamble, as well as feminist icons like Hillary Clinton and Nick News anchor Linda Ellerbee. Get this: It worked. Proctor & Gamble never responded, but a few months later they changed the ad.
"It was at that moment that I realized the magnitude of my actions," Markle described the effect of her advocacy in a speech to UN Women in 2015. "At the age of 11, I had created my small level of impact by standing up for equality."
"It was absolutely clear that this young woman was strong in her beliefs," Ellerbee told Inside Edition in November 2017. "It didn't matter that she was 11 years old. She believed in women, and she believed in her own power and wasn't afraid to reach out and say, 'I want my power. I want my rights.'"
But, that rebellious, oh-so American attitude may not be the best fit for a royal family steeped in tradition, especially when it comes to diplomacy. In fact, Robert Lacey, a historian and biographer of the Queen, told The Guardian last year that the royal rules might spark a crisis for her.
"I can see that this is going to be a real problem in the months and years ahead for her, an existential problem. I don't imagine the Queen will be in a rush to have Meghan at Balmoral when Trump visits," Lacey said.
But that's not to say Markle won't be active in changing the world. As a member of the royal family, she'll probably be sticking to doing what she does best: advocacy.
She will be working with the Royal Foundation on issues like mental health and women's rights, and she be reaching out to help youth in Commonwealth countries. She'll also likely help Prince Harry out with the Invictus Games, a competition for injured or sick soldiers and veterans. And if she's lucky, maybe she can follow his lead and become buds with President Obama. That's a friendship I'm so ready for.
"With fame comes opportunity, but it also includes responsibility – to advocate and share, to focus less on glass slippers and more on pushing through glass ceilings. And, if I'm lucky enough, to inspire," Markle wrote for Elle in 2016.
In the meantime, for her sake, I'm pretty happy she won't have to deal with any awkward Trump hand-holding. She clearly has better things to do.