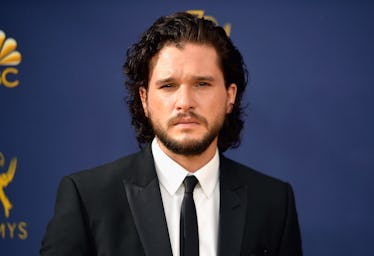 Kit Harington Revealed Whether Or Not He'll Appear In A 'GOT' Prequel Series
Matt Winkelmeyer/Getty Images Entertainment/Getty Images
We only have a few months left before Jon Snow will assumingly know something about the state of Westeros on Game of Thrones. but the actor in his shoes doesn't sound too interested in learning more beyond that. Although the fantasy epic's planned spinoff series takes place thousands of years before the original show, will Kit Harington be in the Game of Thrones prequel? Don't hold your breath for Jon Snow to discover time-traveling so soon after his resurrection.
According to Entertainment Weekly, the Game of Thrones prequel, unofficially named The Long Night, will film a pilot in early 2019 before most likely shooting a full season. The description for the upcoming series reads:
Taking place thousands of years before the events of Game of Thrones, the series chronicles the world's descent from the golden Age of Heroes into its darkest hour. And only one thing is for sure: From the horrifying secrets of Westeros' history to the true origin of the white walkers, the mysteries of the East, to the Starks of legend… it's not the story we think we know.
Basically, if you thought the Game of Thrones chronology and family tree were complex, get ready for even deeper origin stories in The Long Night. Although characters somehow tied to our Game of Thrones favorites will probably pop up, Harington is ready to put Westeros behind him. Speaking to the BBC about his spinoff involvement, he said:
You go all the way back to the pilot of Game of Thrones, that's almost 10 years of your life. That's really unusual in an actor's career. It was a huge, emotional upheaval leaving that family. But would I want to go back and do more? Not on your life.
Given how grueling its production schedule often was, Harington and his co-stars have definitely paid their dues in the Game of Thrones world. It makes sense that he wants to hang up his suit of armor, but nothing is certain when it comes to this show, and that even includes which spinoff concept fans finally see.
Before The Long Night was on its way to our TV screens, it was reportedly one of five ideas for spinoff shows that would all delve into time periods before the events of Game of Thrones. When The Long Night was approved for production, the work on the other projects seemingly paused, but author George R.R. Martin blogged, "Everything I am told indicates that we could film at least one more pilot, and maybe more than one, in the years to come."
We'll wait until we have a tease of The Long Night to debate about Game of Thrones overstaying its welcome, but if HBO has taught us anything, it's that it can never go wrong with a dose of Westeros. Thankfully, we have the series' last season to devour before moving onto new characters. Will Season 8 squeeze in one last, "You know nothing, Jon Snow"?
Season 8 of Game of Thrones premieres in April 2019 on HBO.