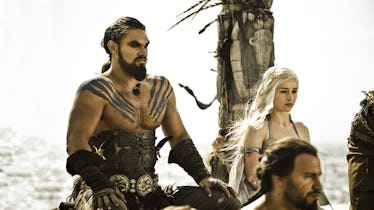 Jason Momoa's Instagrams Have Fans Convinced Khal Drogo Will Return To 'GOT' Season 8
HBO
Filming for Game of Thrones Season 8 started one month ago, when the cast members arrived in Belfast for two days of table reads. Since then, the stars of the show have been in and out of Northern Ireland, there on days they need to shoot, and heading out to London and other locales when they're not needed. But there's one supposedly ex-cast member who showed up in Belfast this past week that shocked fans across the spectrum: Jason Momoa, aka Khal Drogo. Will Khal Drogo be in Game of Thrones Season 8? Or Is Momoa just pulling our leg?
"GoT Star Spotting" is a regular Belfast pastime this time of year, and photos of cast members have been making the rounds on Twitter and Instagram as fans delight in seeing their favorite characters out of costumes and hanging out in pubs after work. The actors themselves, though, don't post pictures. Whether it's because they're afraid of sharing spoilers or accidentally revealing something they shouldn't, it's a rare cast member will post pictures from behind the scenes.
Except for Emilia Clarke, who has graced us with photos of having her hair dyed Targaryen Silver, for instance. But it's her latest photo that got fans' attention.
The caption reads:
When life is so good that your sun and stars is in your city...you lose your eyes and gain 5 grins 😁 (and gins) where until now they'd only been one... (*grins- there's always more gins) 🍸@prideofgypsies YOU ALWAYS MOTHER OF DRAGONS MAIN MAN
So what is Momoa doing in belfast? Hanging out with Emilia? Are they... filming?
Don't get your hopes up. Northern Ireland is *very* friendly to big budget productions. Many movies film there, including the new Star Wars trilogy and some of Warner Brother's DC Extended Universe films, in which Momoa just so happens to star as Aquaman.
In fact, Momoa was in Belfast last year filming Aquaman scenes, and made a big point to go out drinking with showrunners David Benioff and Dan Weiss and Instagram things that hinted he might be back on the show.
And then he wasn't.
So despite what you see, this might not be what you think.
Caption:
Crazy mad insane LOVE for this queen it's truly like bubbles of giggles are in our bellies when we are together. It's a shame we don't get to see each other as much as we would like but when we do i feel like a f*cking KHAL love u @emilia_clarke always forever Yer Jalan Atthirari Anni #getreadyhereicome#GOTohana#slaps mahalo @bullchinashope1_ for always taking care of me @cristian.bullinachinashop you make it a home away from home brother. Aloha Drogo
But then he also posted this:
Caption:
And then this happened I'm so honored to know these two amazing women queens goddesses @gal_gadot@emilia_clarke Wonder Woman aka amazing mother warrior aka saves my ass all the time in JL And Khalessi aka mother of F*cking dragons aka my boo aka moon of my life Even i have to fanboy out sometimes. #icantbelievetheyloveme#drogodanywonderwoman #boomforeal. Aloha fanboy
Yes, Khal Drogo brought together Wonder Woman and the Mother of Dragons. You may squeal.
When you're done squealing, realize this: If Gal Godot is in Belfast, that means almost certainly Momoa is not there for Game of Thrones. He's there for the DC Extended Universe.
He all but admits as much here:
Caption:
Unite the clans. 24hrs in Belfast GOT Super honored to once apart of this show. I love seeing all my friends and new ones @khivju your a f*cking legend Mad crazy love to Dan and David and Every one i saw i know u just started good luck with filming the greatest show in history have fun Aloha Drogo
Note the "Good luck with filming" and "Super honored to once [have been] apart of this show." Spoken like a man who's just seeing friends, not actually filming with them.
Caption:
UHRRRR! You just have to love this man! The walking adventure Jason Mamoa - the one and only Khal Drogo! @prideofgypsies Check out his netflix show #frontier and upcomming movie #justiceleague !!! Great night, peace out! Swipe!
Hivju isn't the only one Momoa is hanging out with though.
Even so, I doubt we'll be seeing him in the final six episodes. But who knows?
Game of Thrones Season 8 will arrive at some point in the distant future, 2019 maybe, on HBO.