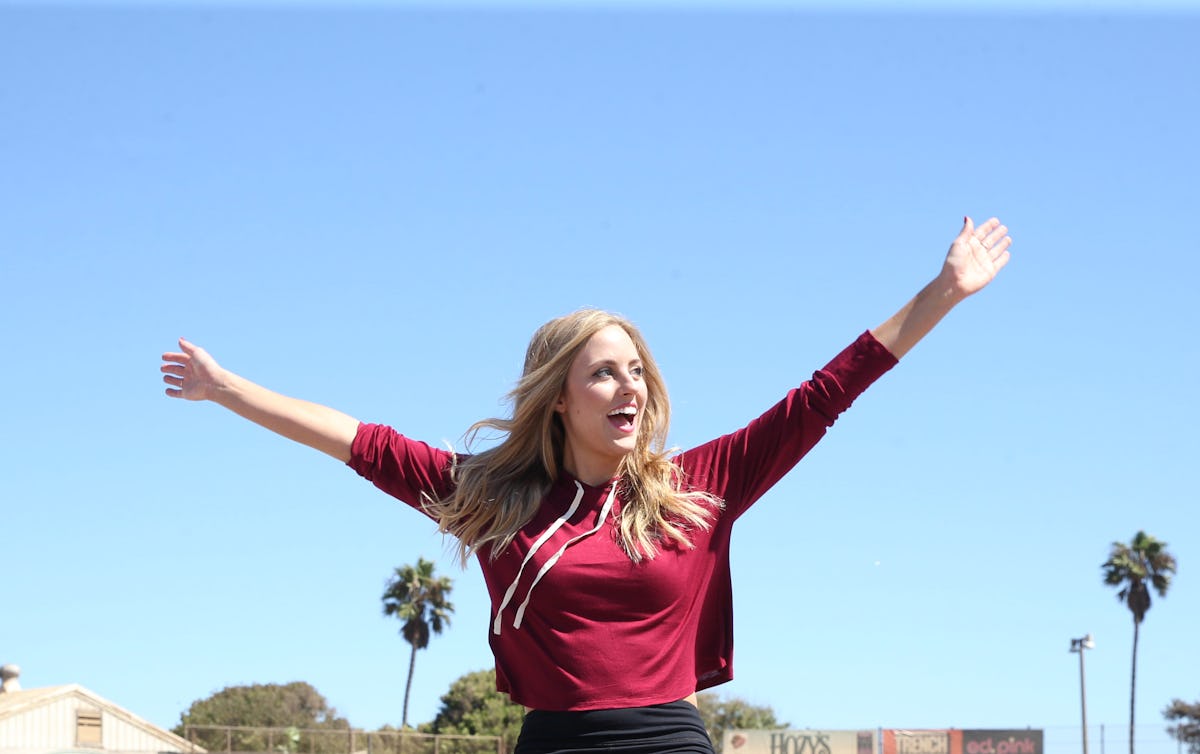 Fans Are Dying To See This Contestant As The Next 'Bachelorette' & We're Here For It
Let's face it: Kendall is not the traditional casting pick on The Bachelor. She's incredibly kind and analytical in the best way, and even has a quirky (or, as Arie would say, "corky") passion for taxidermy. While she's still in the running for Arie's final rose after Tia's surprise elimination, her bond with Arie doesn't quite match up to his relationships with Becca and Lauren, and she remains skeptical about her potential future with Arie. That being said, will Kendall be the Bachelorette? Some loyal fans seem to think so.
A Refinery29 piece campaigning for Kendall Long to be the franchise's next lead points out that the 26-year-old is way too delightfully odd to settle for a relationship with an awkward guy who gets excited about going to bed early in the old people mecca of Scottsdale, Arizona. Arie was practically convulsing when he was dressing up stuffed rats with Kendall on her hometown date. Although he played along, it was clear that this probably isn't something he'd be down to do in between weekend brunch and hanging out with the parents if he ends up engaged to Kendall.
You'd be hard-pressed to find a past contestant who is totally twinning with Kendall, but I've compared her to Bachelor Season 19 alum Carly Waddell all season long. She's uniquely weird, but totally gives off vibes of someone who'd go to Paradise and fall completely in love with a fellow weirdo. It's a combination that's rarely seen on the franchise, so it's great when the less traditional contestants excel as Carly and her husband Evan Bass have. If Kendall is officially Paradise-bound, keep an eye out for taxidermists on the upcoming Bachelorette season, guys! He could turn out to be Kendall's perfect Paradise match.
The argument for Kendall as Bachelorette includes the point that, in addition to Tia, she has received a stellar edit throughout the show. She didn't have much screen time in the season's early weeks, but the mere fact that producers didn't overemphasize her love of taxidermy proves that Kendall was just too enjoyable as a person for the editing team to ruin her with a weird twist on her unorthodox hobby.
Vintage fans of the franchise will remember how the last major mention of taxidermy on the show didn't exactly end well. On a hometown date with contestant Kirk, Bachelorette Ali Fedotowsky wasn't too thrilled with his dad's taxidermy workshop in the basement. Clearly, the Bachelor franchise's relationship with the art of taxidermy has improved over the years.
Also, Kendall has notably never been painted in a "mean girl" light. Whereas fans of Tia cringed a little when she seemingly played a major part in Bekah M.'s elimination, Kendall became the internet's hero when she responded to Krystal's attacking nature on a two-on-one date with a mature conversation. Kendall recognized that Krystal had faced her own personal struggles and reminded her that trying to hurt others would only hurt herself.
In another moment that clearly promoted women supporting other women, Kendall helped Jacqueline deal with her doubts about her relationship with Arie. At no point during this conversation did Kendall try to undermine Jacqueline for her own benefit. She's obviously emotionally mature in a way that hasn't always come across in previous franchise seasons.
While casting Kendall as the Bachelorette would be a much-welcomed new direction for the show, we also have to keep revelations from her hometown date in mind. Her family mentioned how analytical Kendall usually is and how this often makes falling in love difficult. Kendall also admitted in interviews that she isn't ready for an engagement, which suggests that the quick time frame of The Bachelorette, even with her in charge, wouldn't help her find the perfect relationship. Still, fans are totally into this possibility.
Who knows, perhaps Arie will surprise us all and declare that Kendall is the one, but until then, imagining the crop of men that Kendall's Bachelorette stint would introduce is definitely entertaining me.
The Bachelor returns on Sunday, Feb. 25 with the Women Tell All special at 8 p.m. ET on ABC.