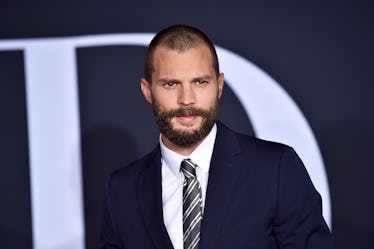 Jamie Dornan Said He Won't Do Another '50 Shades Of Grey' Movie, & This Is Why
Alberto E. Rodriguez/Getty Images Entertainment/Getty Images
For many people, the Fifty Shades Of Grey series has been a fantastical escape into an intense romantic world since the first book debuted in 2011. On screen, Jamie Dornan took it a step further playing the role of beloved Christian Grey, and became a mega-sex symbol for Fifty Shades fans since the first film in the series was released in 2015. Unfortunately, Jamie Dornan said he won't do another Fifty Shades movie, so fans, you might want to get your tissues ready.
In an interview with ITV's Lorraine on Monday, Feb. 5, host Lorraine Kelly questioned the actor on whether or not he would continue to play the role of Christian Grey in upcoming films. Kelly specifically asked if the upcoming movie would be Dornan's "last one," according to E! News. To which Dornan replied,
Yeah I think so. There's no other books. [E.L. James] wrote the first two books again from Christian's perspective, but I guess we've done those films, the same stories, so they won't be doing that again.
Dornan continued, "Unless Erica keeps writing, but Dakota [Johnson] and I are... particularly me, I'm gettin' too old for... for this."
*Weeps*
Although his comments aren't really surprising since Fifty Shades Freed is the last book in the official series.
Though a new novel, Darker: Fifty Shades Of Darker As Told By Christian Grey, released last year, the series just might be past its expiration date. In a statement from Oct. 10, author E.L. James said the book would be a "first glimpse" into Grey's mind. She said,
The inside of Christian Grey's head is a fascinating place to be… In Grey we got the first glimpse of what makes Christian tick, but in Darker we go deeper, into his most painful memories and the encounters that made him the damaged, demanding man Ana falls in love with.
And honestly, I don't know if that's really worth an entire movie. As Dornan said, it's a retelling of the original book — so it would probably be hard to make a new movie out of it. And anyway, If we thought the first couple of movies were too graphic, imagine what Grey's pubescent, teenage and early-adult years were like. I think I'd pass on that one.
It's also not surprising because Dornan is rumored to really, really hate not only the Fifty Shades series but also his co-star, Dakota Johnson. So "old" or no, it looks like there are plenty of reasons for him to skip out after the third film.
Dornan's statement comes just days before the next movie installment of the series.
The next movie, Fifty Shades Freed, releases in theaters on February 9, which kind of makes this interview extra bittersweet, IMO. The plot is slated to chronicle the lives of Anastasia Steele and her new husband, Christian Grey. However, the adjustment to marriage is more difficult than Steele anticipated, propelled by Grey's controlling nature and seductive habits. The plot coupled with the news of Dornan's possible departure is just like, how can he leave when things were just getting good?
Some people took to Twitter to express their sadness over the news.
But not everyone felt that way.
Still, even after the news broke, people were sharing their excitement to check out the upcoming film.
Previously, when speaking to The Sun in 2016, Dornan also mentioned how he likes to move on "very fast" from characters. He said,
I move on very fast in my mind. As much as from the outside people think you are synonymous with one character, but I'm very much like, 'Right, that's done' and move on to the next project and worry about that character.
And with three Fifty Shades films under his belt, I don't think we could blame him for moving on.
I'm going to guess that Dornan won't leave his fans hanging, but just in case, we'll be soaking up as much of him as possible onscreen and waiting to see if he'll return to let us in on all of the things that go on in Christian Grey's head. You can always change your mind, after all.